Hot like Mexico


2010-07-11 | 7:53 p.m.

At this exact moment on time the washing machine's making a racket and I'm half-heartedly watching the World Cup final, mainly to see whether Paul the Octopus has got his match prediction right seven times in a row.

Life's been highly entertaining lately, Diaryland! I'm a happy soul. Friday night in particular was utterly amusing due to the sheer randomness of what I got up to. Started off having drinks at the Old Bailey for a friend's birthday and then to a cocktail bar for another friend's birthday where Jenn and I inexplicably fell into a speed dating event. One poor dude was dateless so we both sat down at his table, announced, 'You get two for the price of one!' (His response? Surprisingly unimpressed!) and had the organiser invite me to stay to even out numbers while Jenn chose to flee to a pub across the road with other workmates.

So I can tick speed dating off the ole List of Life. Quite fun actually! Though with a couple the 4 minutes we were allocated for our 'date' felt a good 3 minutes and 45 seconds too long, but still, you can't expect the moon on a plate covered in gold sprinkles.

After that I dragged two of my datees across the road to the pub Jenn et al were at, which was enjoyable for a while but I soon tired of my new friends. Conveniently along up the road staggered one of our Old Bailey journalists who we quickly decided to commandeer and have accompany us to a heavy metal place on the Holloway Road called Big Red. My subtlety of ditching the new guys included telling them that we were not at all taking the party on to Big Red but that we were going home, swiftly followed by turning around to Jenn and excitedly chanting 'BIG RED, BIG RED!'

Along the three of us - two stenos and a journo - went to aforementioned metallers hangout. We drank beer, played foosball and then came back to ours, Jenn retiring to bed about 3 and me and Journo staying up talking til nearly 8 am, something which was not punctuated by anything more sordid (I'm sorry I'm not the excitement Queen).

Saturday mainly consisted of sleep-deprived disorientation, though I had my dad's to get to in the evening, so at 5.45 I was on a train to Royston where I was being retrieved from and taken to his lovely Cambridgeshire abode for a BBQ with my stepmum and lil bro, and today a village fete-a-ma-bob in Shelton.

This is very strange but I think I am starting to love my dad more. We've never had a bad relationship in the sense there was animosity, massive disagreement or anything like that, but from about the age of 14 - 24 I just felt so *distant* from him.

It's been getting better; I look forward to and enjoy seeing him, even for something as little as us driving past a pub called the Bees in the Wall and him excitedly telling me, 'Look, Sarah, look at those actual bees in the wall!'

It's just as well it wasn't called the Lobster in the Swamp.

Right! Glastonbury photorinos.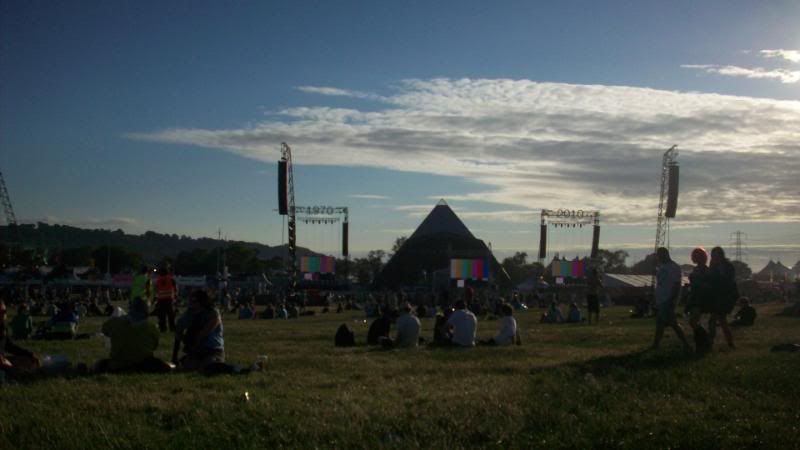 Dave and my brother Adam.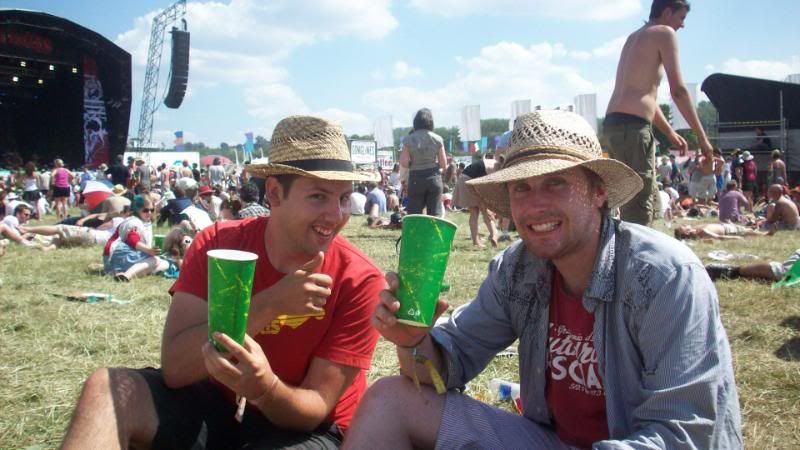 Other chums.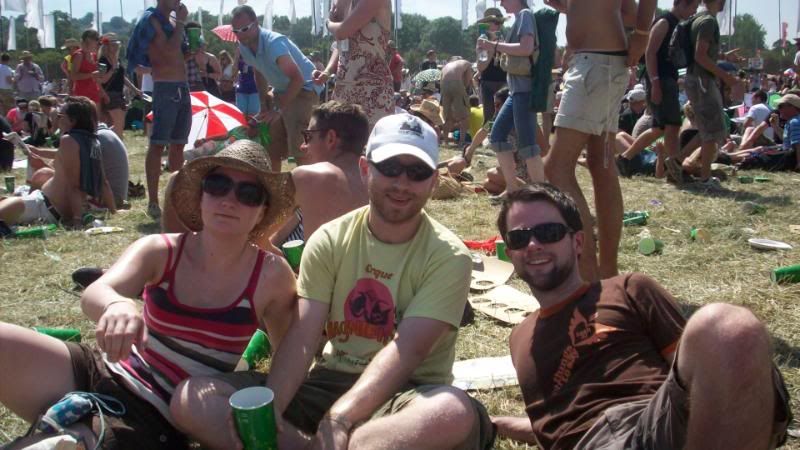 Me and Barry.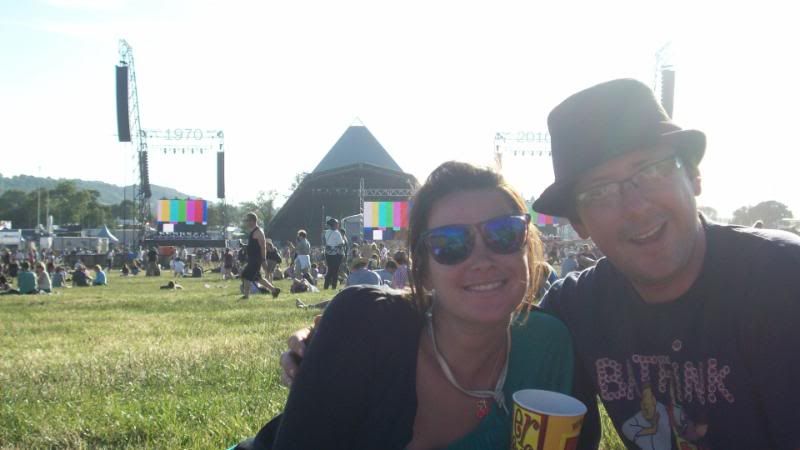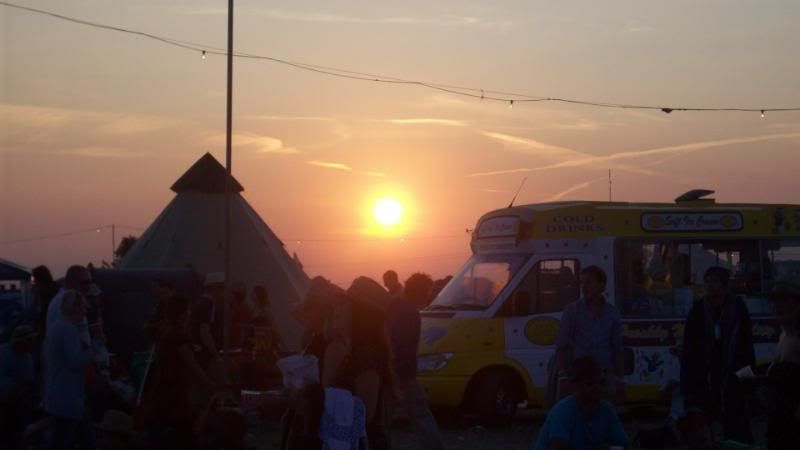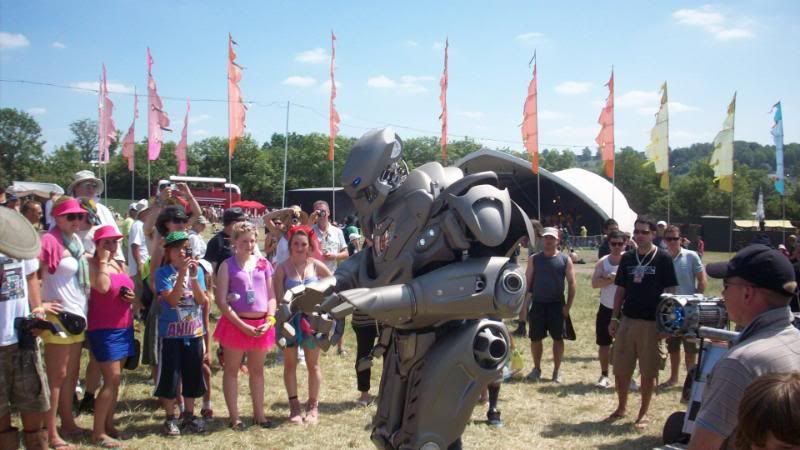 More friends (I'm on the floor with the fluffy bowtie).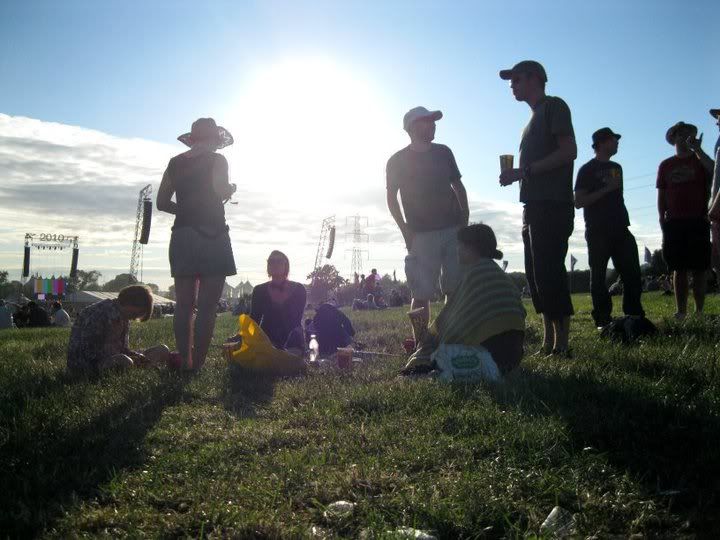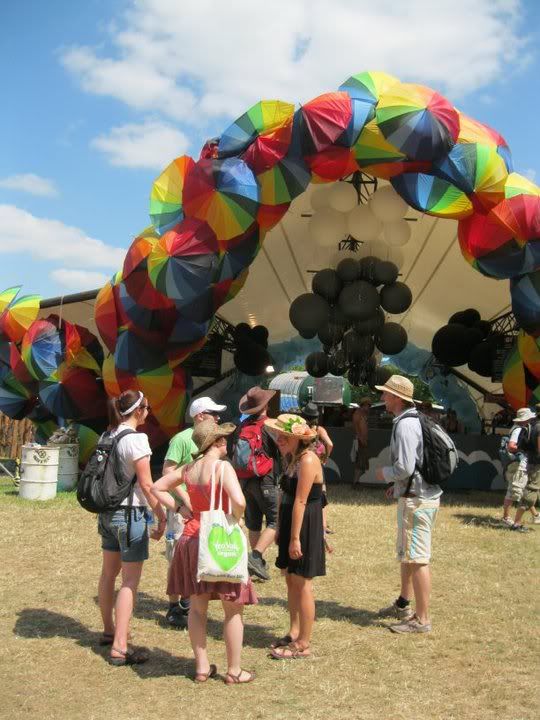 'Hey - let's all go to Glastonbury dressed as beers!' snigger several Michael Jacksons.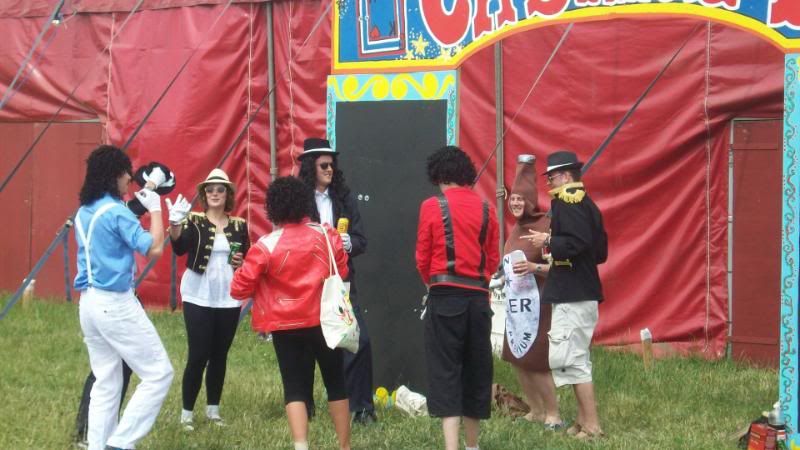 This is my arse (middle) at Cubehenge.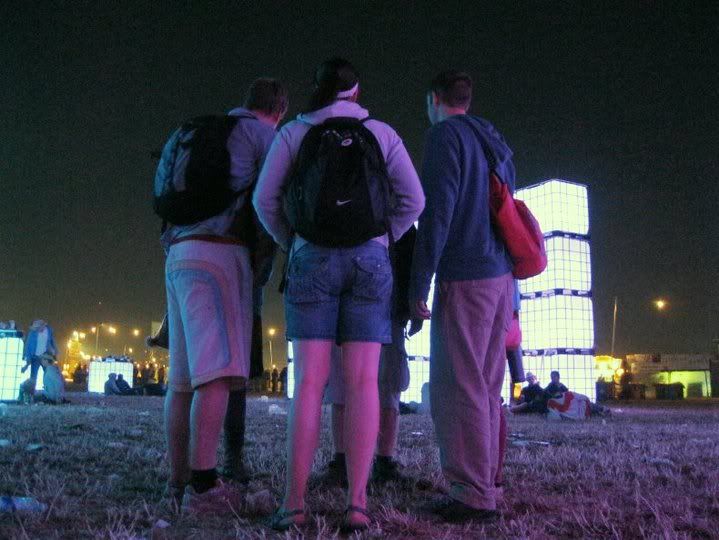 This is me after too much silent disco.
And this is my method of going to sleep after too much silent disco.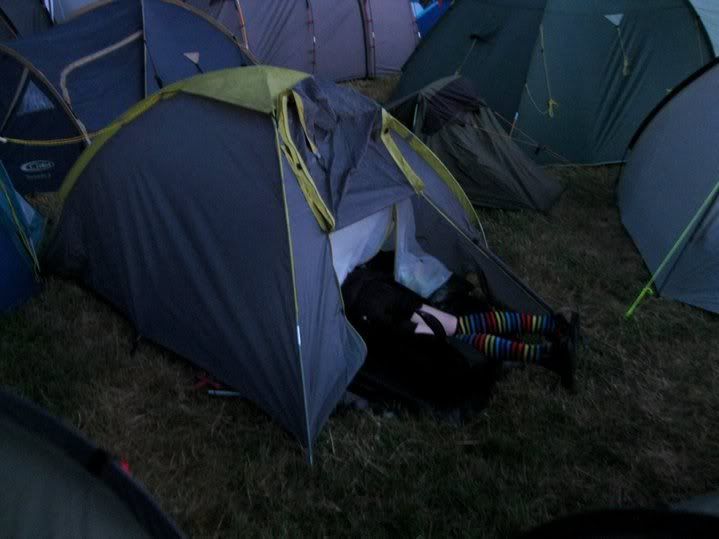 Glowstick outfits. AWESOME.
I'll be back next year come rain, shine or Kylie.

previous | next