Amsterdam!


2010-09-07 | 8:11 p.m.

Nothing like a nice little Tube strike to help you recover from your holiday, which means battling hordes of irate Londoners all trying to get to work. I was tempted to get a bus then decided that as I had enough time (and had been given a generous 10.30 court by my boss) that I would walk in, as it's only three miles from my house to the Old Bailey. Anyway, I was immensely glad I dodged the bus as I passed it on my way down and it never caught up with me again. I got in fine, if mildly sweaty, but didn't start until 2.00 pm in the end as my court had an extremely late juror. They could have come from Paris on the Eurostar and got in quicker. Not that I really minded!

Amsterdam: absolutely one of the most amazing experiences I've ever had. At the end I didn't want to come home and now feel baffled as to how to put my normal life back together as I've just had four days of crazy. I took two books and a selection of magazines, read none of them other than on the flight and then completely forgot that the outside world existed until we got back and I saw a newspaper.

The best thing is that Tim and I got on. Confessions emerged how we'd both felt trepidation at the prospect of spending so long in each other's company and had been sure we'd need to have at least one solitary day of the holiday to have a break from each other. I was relieved/pleased when Tim announced on our last day, 'I was worried, but do you know what? It's gone *really* well.'

If I don't write it down soon then all the days will blur into one in my head. I have to say, we didn't have a continuum of perfection, but the holiday in its entirety is what made it. Navigating the streets was hard and we got lost a lot. And I absolutely did not enjoy the drugs. A spliff on the first night kind of just rendered me a bit useless and thus we went back to the hostel and played cards for a while before passing out. A space cake on Saturday afternoon totally destroyed us.

On Saturday our late afternoon intention had been to go to one of the museums, but when we rocked up we realised we only had half an hour before it shut and decided to postpone going, meaning we had a bit of in betweeny time before dinner. Coffee shop and a space cake? Why not! We got a hash brownie each, sat down and ate about a third of it. 'Effects take 45 - 90 minutes,' the packet told us, and so we waited. But we failed to acknowledge it's not really like when you're in a bar and sipping on a drink, a fact we ignored and after 'not feeling anything' for a while nibbled the rest of our brownies away and then decided to go on a wander to the canal-side.

One minute we were giving directions to some fellow tourists in the main square and the next we were walking down a street and it was like being smacked in the face by a wall with the intensity of the feeling of being fucked. I'm smaller than Tim so it hit me first, but it got him pretty badly too. I had bizarre, delusional and irrational thoughts. At one point I got a bottle of Diet Coke out of my bag to sip on and my mind screamed 'OH MY GOD, WHERE HAS THAT DIET COKE COME FROM???' and I'd then have to attempt to calm down and remember that it was fine because I'd bought it from a shop earlier. Ability to form any kind of coherent sentence was nigh on impossible. We'd walk down a street, stop, and then neither of us could remember which way we'd come from, let alone where we were going. After some dinner in a state of disarray we managed to stagger back to our hostel with the premise of recovering for an hour or so before going back out again. Yeah, like that happened! 14 hours' sleep later and it was now Sunday, and drugs of any form were strictly off the menu. Lesson learned.

I don't know whether my favourite day was Friday or Sunday. Each was brilliant in its own way. Friday was great as during the day we had pancakes before going on a three-hour walking tour with other tourists and travellers. The weather was favourable, the group were friendly and we saw some beautiful sites...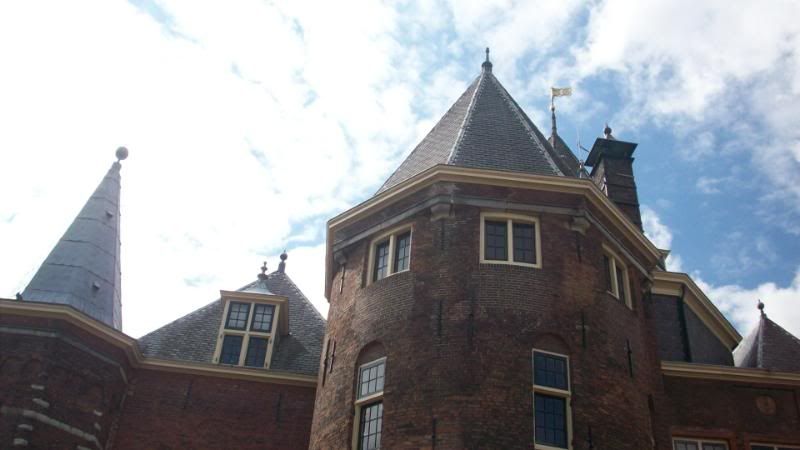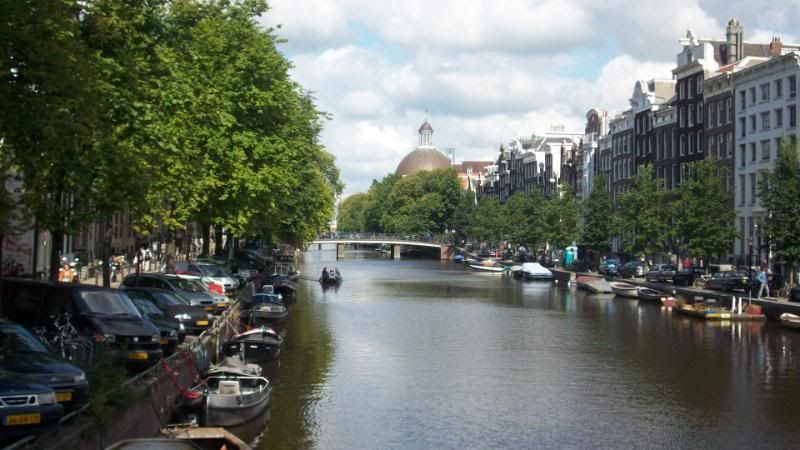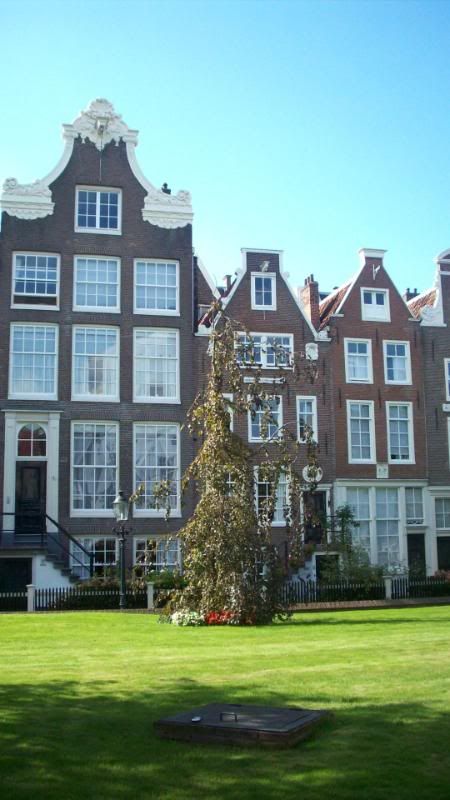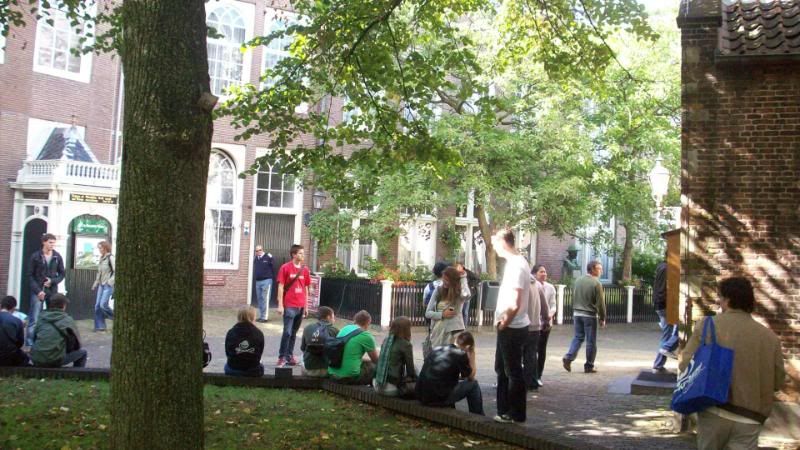 I got chatting to a couple of American guys and at the end of the tour semi-arranged to meet them at an organised Red Light District bar crawl that evening. Tim and I then spent the rest of the afternoon at the Sex Museum (definitely worth going to)...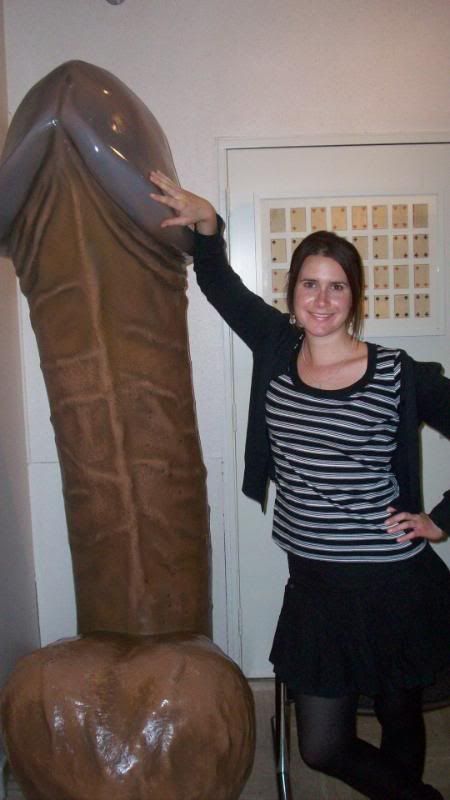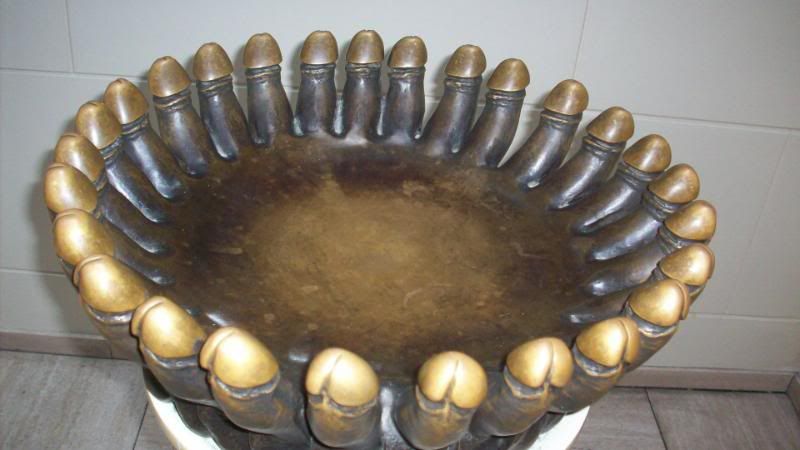 ...had some pizza then joined the pub crawl party, rejoining the Americans, Keith and Matt, and some Aussie girls, Elyssia and Stephanie. We formed a friendship group very quickly and enjoyed sampling the Amsterdam nightlife together. I was happy chatting to others in the group and drinking a few beers I thus failed to realise at one point Tim had gone missing. It was about quarter to midnight and I wasn't overly worried (as he said he liked going off sometimes), especially as Keith the American promised to walk me back to my hostel. A few hazy hours passed. All I know is that at the end Keith and I were galavanting around the streets of the 'Dam, purchased some chocolate-covered giant pastry from a late night bakery and eventually ended up at my hostel at 20 past 4 in the morning. At which point I realised my hostel shut its doors between 4 and 6 am.
Fuuuuuuuuuuuuck!
I sent Tim a text saying I'd missed curfew but would be back ASAP before stumbling back with Keith to his hostel a couple of streets down. I remember thinking how much it reminded me of an orphanage - people gently tucked up in their bunk beds, slumbering alongside one another - and miraculously managed to catch just over two hours' sleep with Keith in his top bunk single bed before deciding at 6.45 am it was probably a good time to flee back to my own abode, before everyone in Keith's hostel started getting up. I said goodbye and slinked back in my walk of shame, got into my own bed about 5 past 7 and passed out for the next few hours. When I woke around 1 pm I was surprised to see that Tim was still asleep, in the bed next to me. When he regained consciousness I found out that he'd arrived back at the hostel about 5 minutes before I had, after going on a several hour walk around Amsterdam, going entirely off the map and somehow acquiring a beanie hat during the whole ordeal.
Consequently Saturday was a bit more of a relaxed affair, with a boat ride...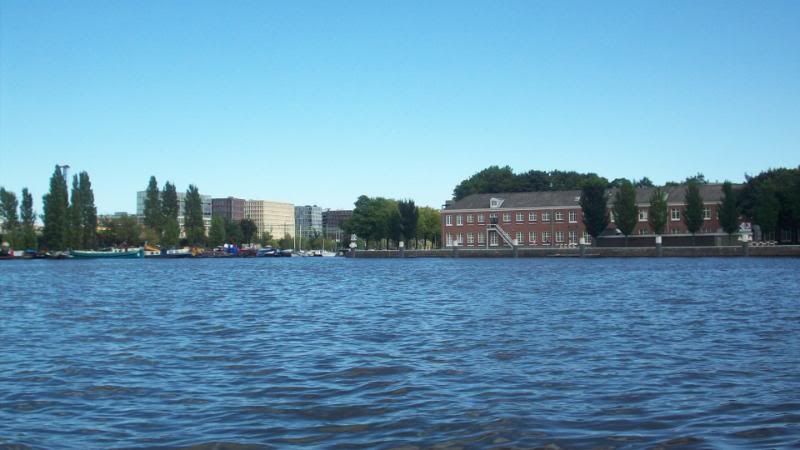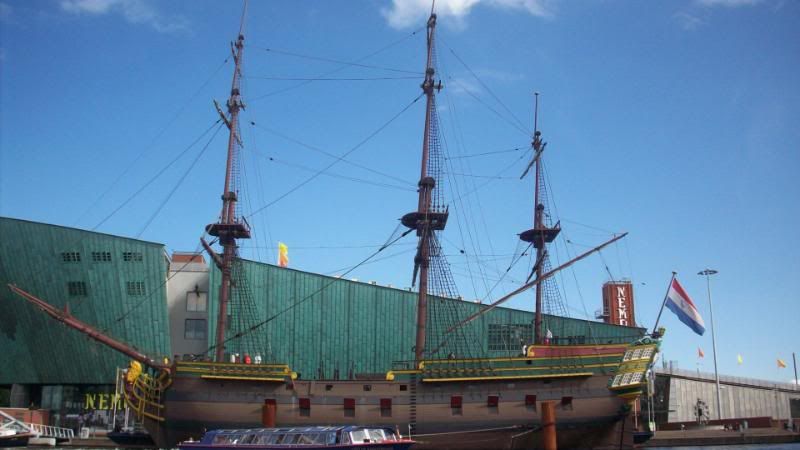 ...and as I already said, then the space cake in the coffee shop happened.
Fortunately we were incredibly refreshed for Sunday and managed to fit masses in by getting up early. We did Anne Frank's house (hugely interesting and moving) followed by the less historically significant but really quite entertaining Heineken Experience...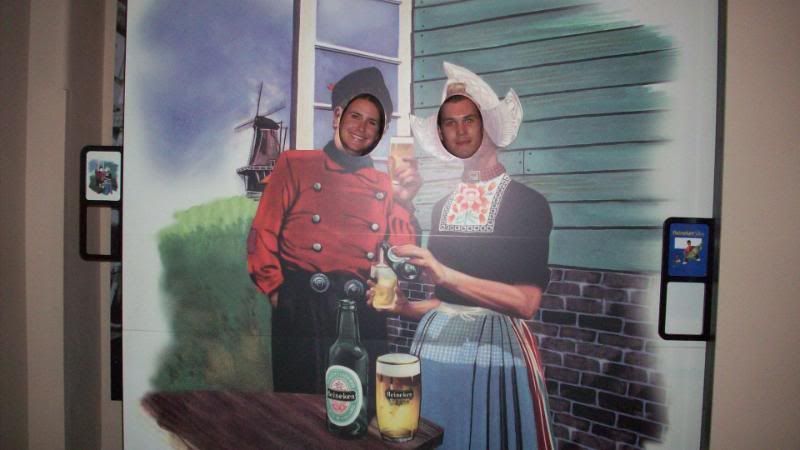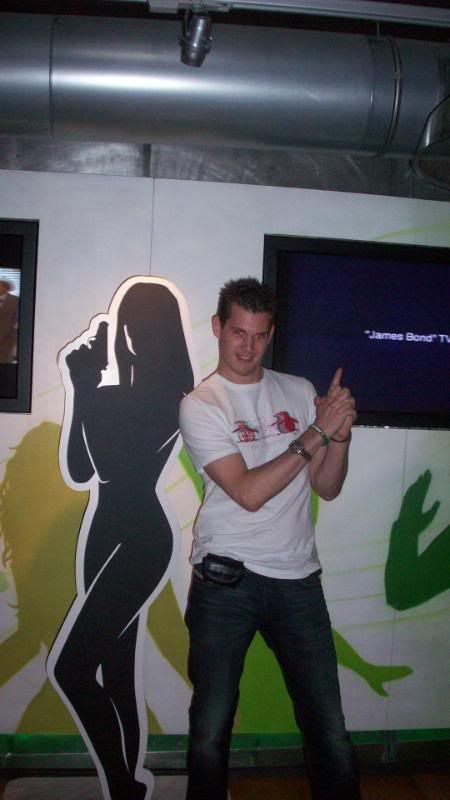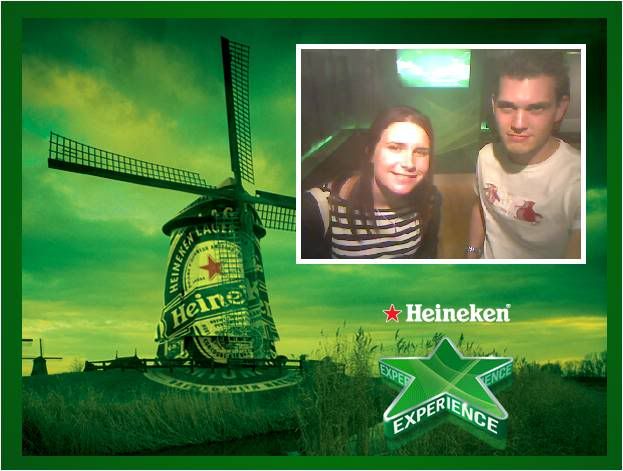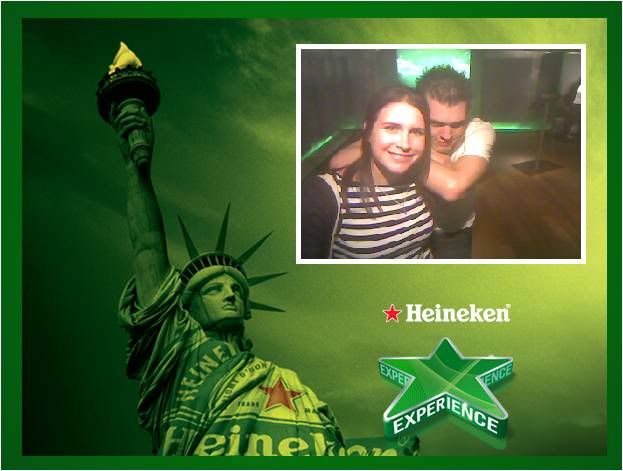 ...and then the history museum...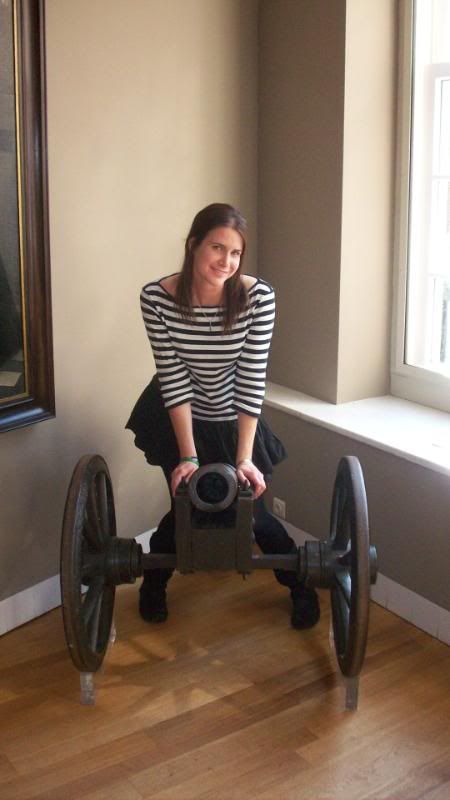 ...before going for a drink in the main square (Tim is shown here drinking an 8 Euro beer)...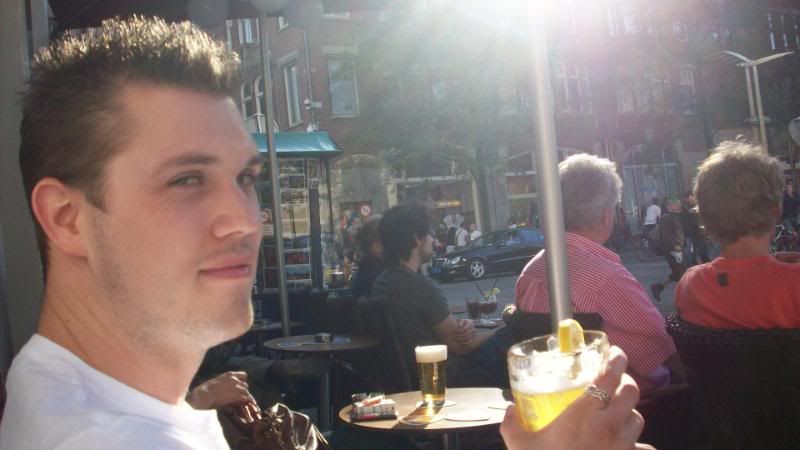 ...but the view was nice.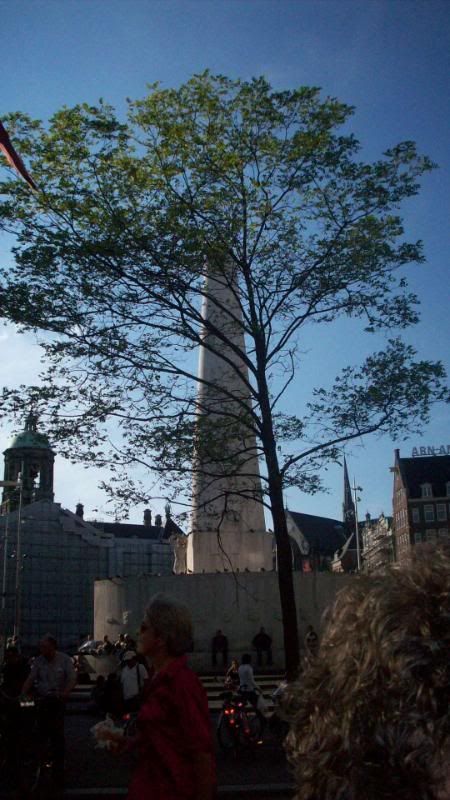 And then we went and got some food and more beer - with a starter of bitterballen!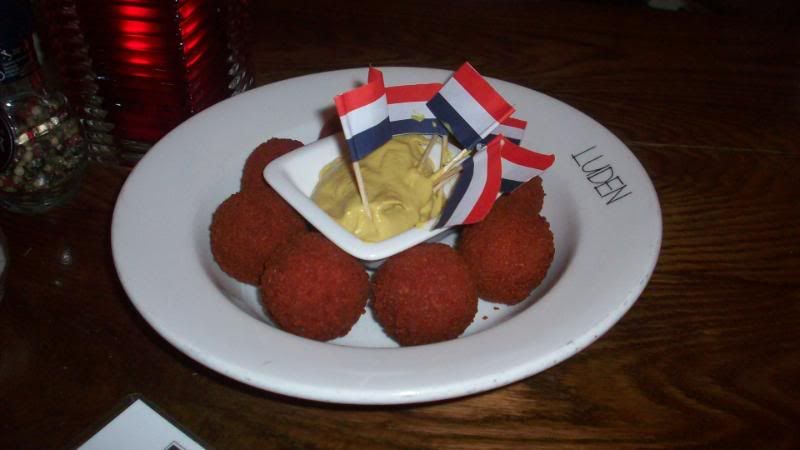 And a Kwak.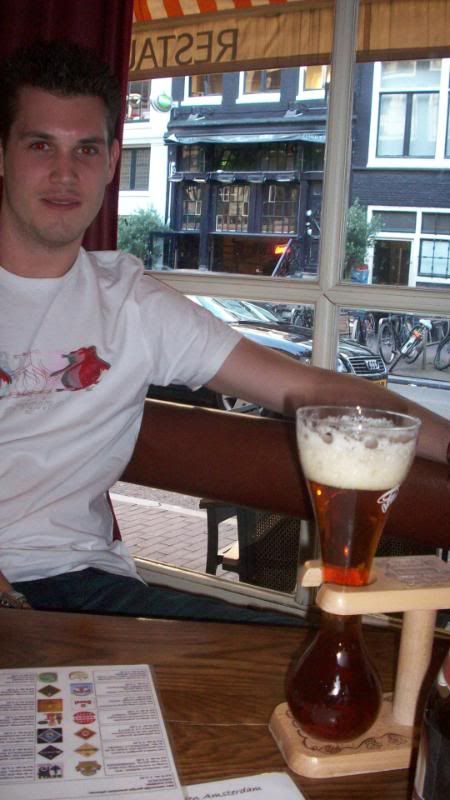 Sunday night also saw us going to a sex show in the Red Light District (very sadly taking pics of the girlies in the windows is an absolute no-no) but you can probably get an idea of the general vibe: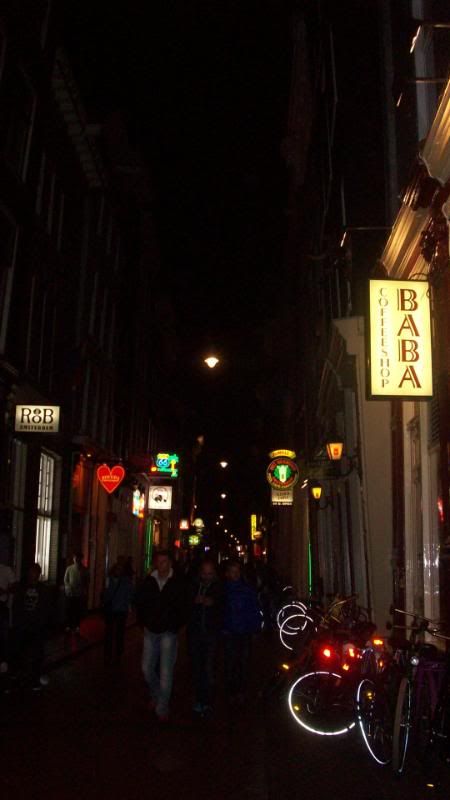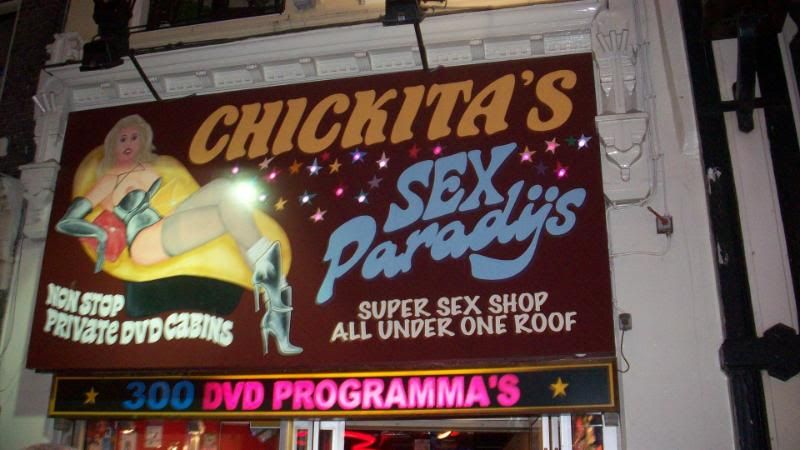 The sex show we went to was probably everything I could have wanted from such. It wasn't too nasty and seedy - there was definitely a pinch of salt about the whole thing - but it was still dark and dingy with an air of shadiness. We sat at the club's bar, far back enough so as not to have to become involved in audience participation, and it was really very good indeed.
As seems to be tradition, later on that night and once away from the sex show we ended up kissing. A lot. And the next day (which would be yesterday), as seems to be tradition, didn't talk about what happened between us AT ALL. Instead we went for more pancakes and then to the Van Gogh museum, which we spent about 40 minutes in before being evacuated...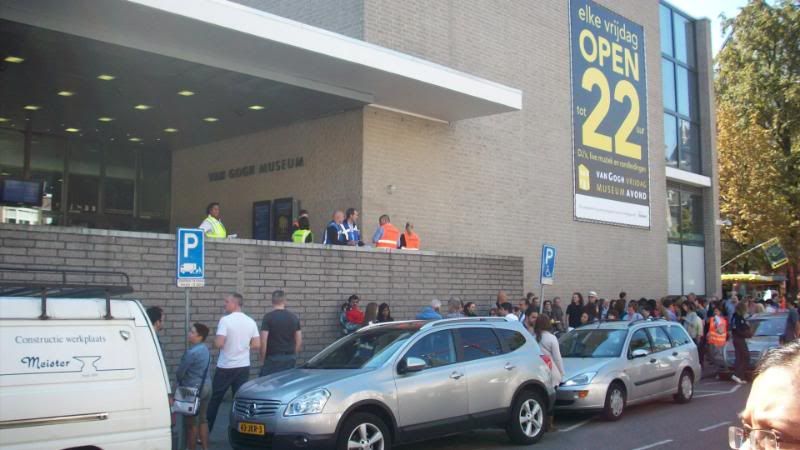 ...and so larked about in the park area for a bit before it was sadly time to head home.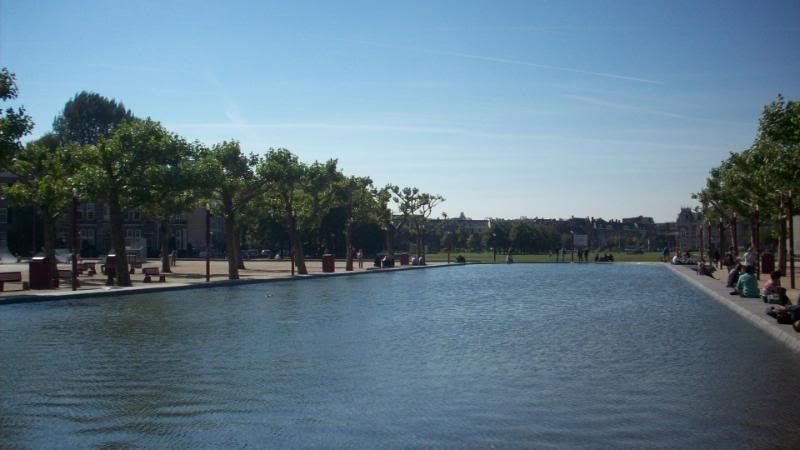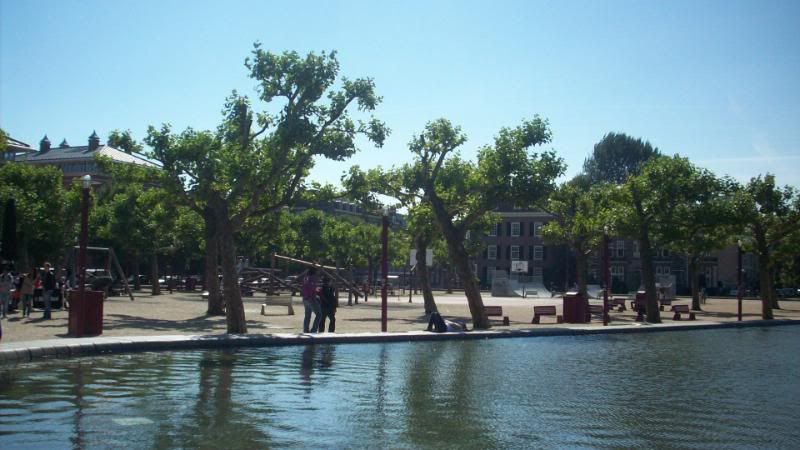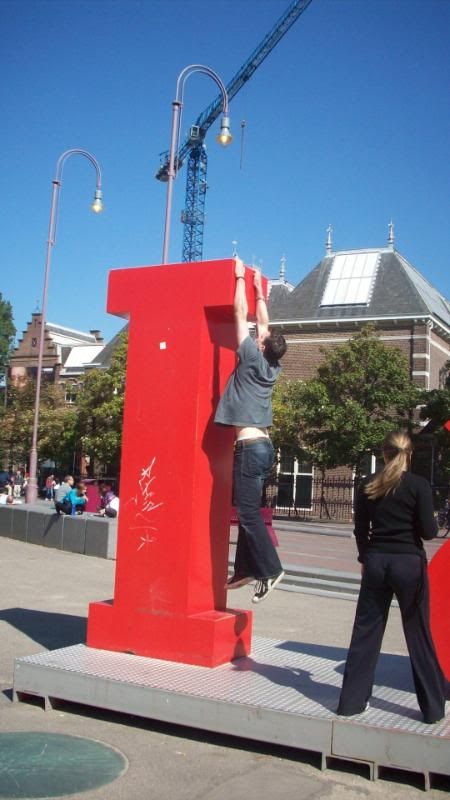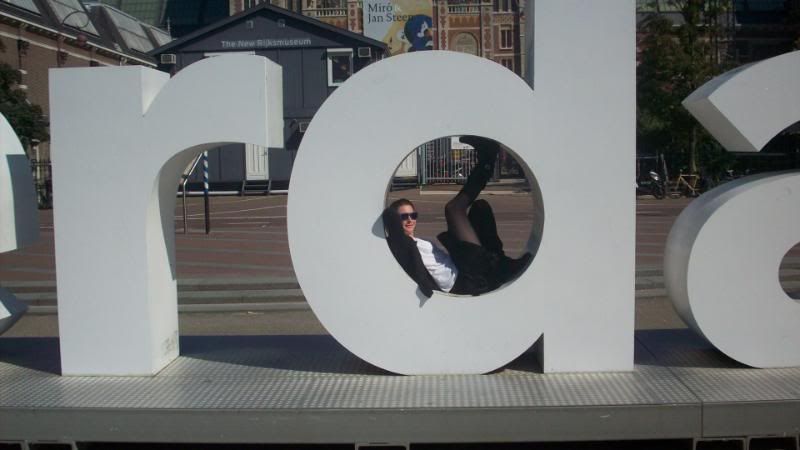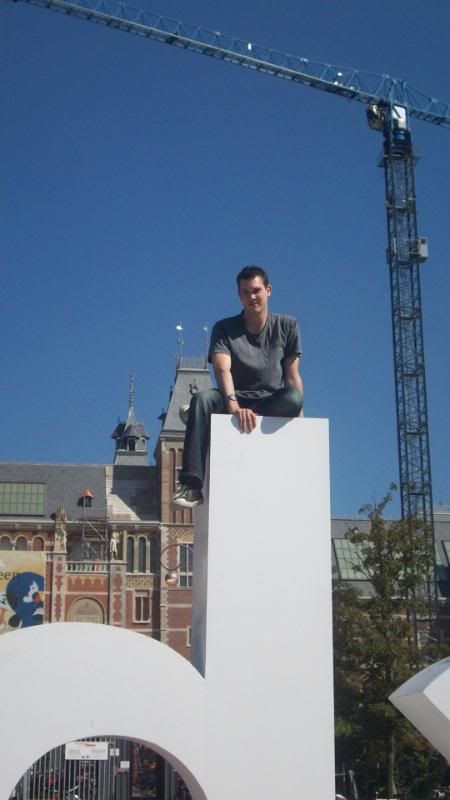 I'm pleased to say I'm totally converted to hostels too. Ours wasn't amazing but it did the job just fine.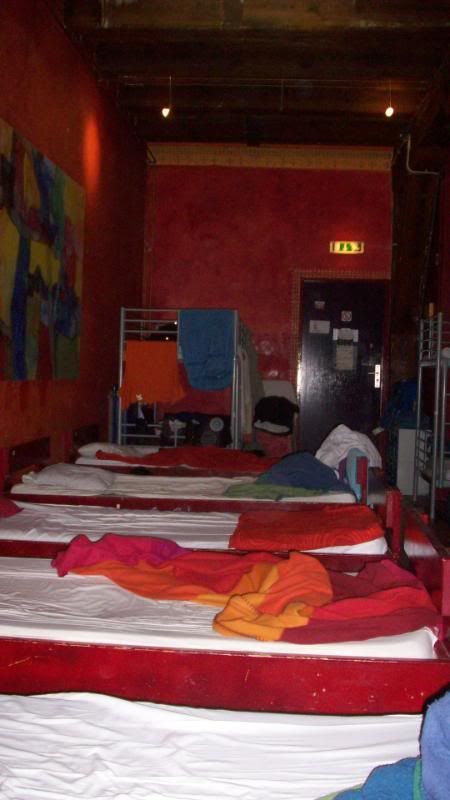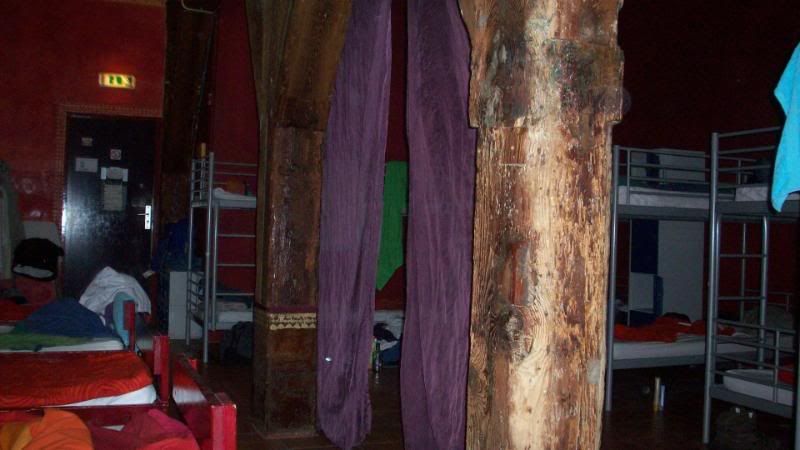 This is despite the fact that on the first day I heard someone complain to reception that they had 'seen three rats'.
Apologies for length of entry, etc, but these are my memories (or lack thereof!) and I feel compelled to preserve them in whichever way I can. The Internet's always a good place. I miss Amsterdam and I miss Tim, but I don't feel sad; I just hope there are other similar adventures waiting out there.

previous | next