Wooooowooooowooooo


2011-02-17 | 7:25 p.m.

Sheeeeesh, how much can happen in 13 days? A LOT is the answer to that ridiculous little question.

This has included but is not limited to going to Germany, nearly missing the flight to Germany, getting myself in a German regional newspaper (Rhein Neckar Zeitung), singing the Duck Sauce Barbra Streisand song more times than it's probably been aired on radio, deciding not to move house after all, getting back into Eastenders and, yesterday, going on a date with a new boy.

So my preconception of all Germans being blond, round and full of chocolate went out the window as soon as we touched down in Baden Baden. What a beautiful country and people. Heidelberg was fantastic, something I was very sure of after the taxi came to take us back to the airport on the Sunday and I felt my heart slide down into my toes.

We nearly never made it at all. Reeta and I travelled to Stansted together by train and arrived in plenty of time, hoping to enjoy a bit of Duty Free shopping and a pre-flight glass of wine. Katie, however, was another matter. She was getting a lift, stuck in traffic and a phone call by me to enquire how far exactly she was away from the airport was greeted with a terse 'I don't know.'

The gate for our flight was due to shut at 18.10 and at 17.50 Reeta and I had to make the decision to hand over Katie's boarding pass to security, get ourselves through customs and pray Katie would make it by the skin of her teeth.

At 17.55 we had a call from Katie saying she was just outside and would be there in a sec, so we frantically held our place in the queue to await her arrival. At 18.00 we went through customs and at 18.01 I was having my bag searched. At 18.03 the man searching my bag scanned it with a weird sponge thing. At 18.04 he was sending my liquids back through security and at 18.05, five minutes before our gate was due to shut, a few tears began falling out of my eyes. Also at this point bemused passengers probably thought I was a drugs mule who'd been busted.

It all ended well though and I managed to relax once we were up in the air; odd in itself as I do not like flying. The weekend was lovely: castles and funiculars and mountainous sunshine walks and beer and pretzels and hot chocolate, all with good company.

Reeta, Katie and my brother Adam.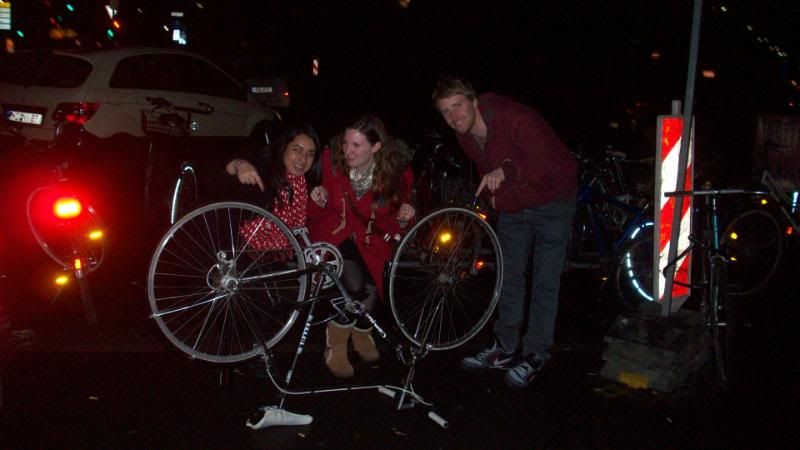 A half-metre long bratwurst.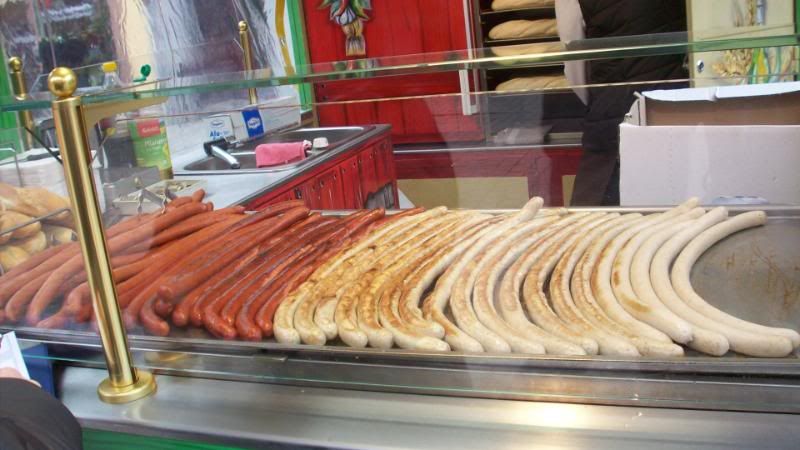 The four of us in a Heidelberg nightspot.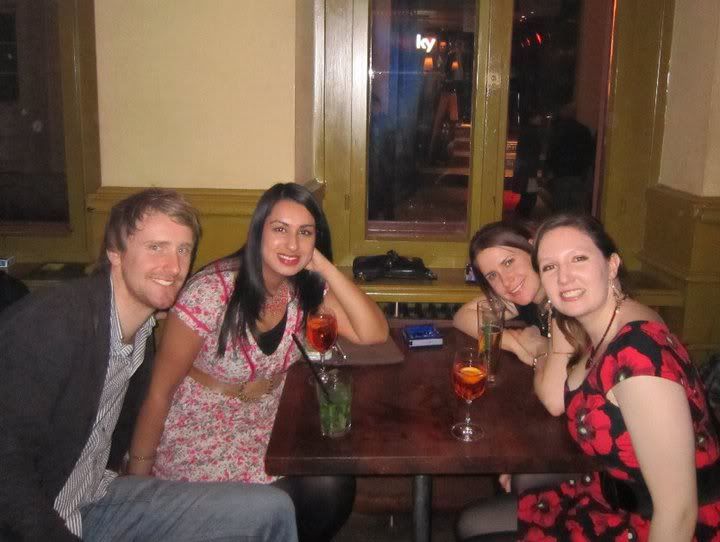 Over the river.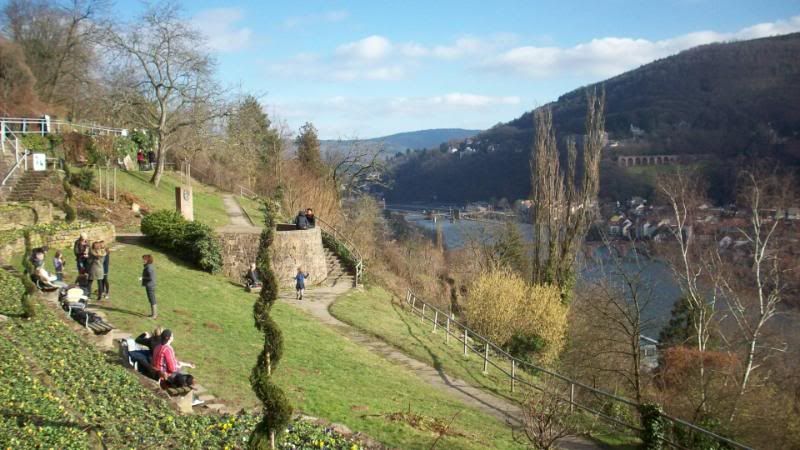 Outside the world's smallest restaurant (which had one table and two chairs!).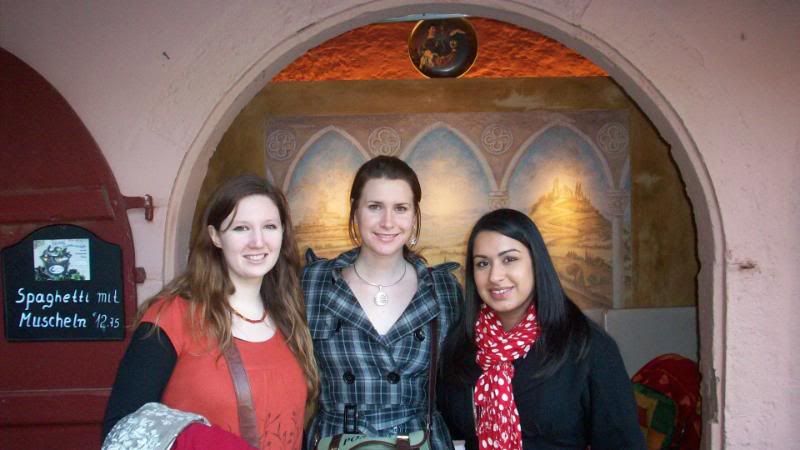 Katie and I.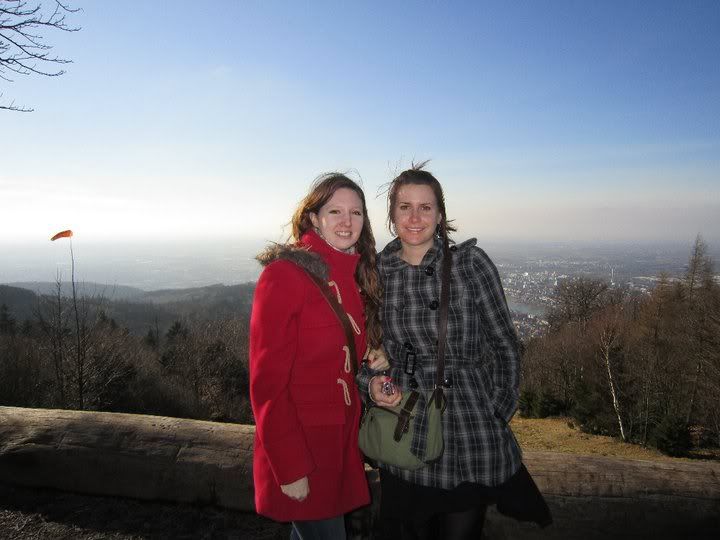 Last Friday I met a boy through my workmate Liz and yesterday we went out for drinks and dinner and, gosh, I am extremely out of practice with dating and was horribly nervous at the start, but that soon went, thank God. I have somehow managed to get stubble rash on my nose from kissing him so much, ahaha.
New Clerk asked what I was up to in the evening yesterday so I told him I was going out and when he asked with whom I coyly replied 'With a new friend.' Today he asked me 'How was the rendez vous?' and I told him to mind his own bloody business.
***
Unbelievable! He's just texted me this exact minute with 'I forgot to ask...did your man last night have stubble by any chance?'
I have replied with 'What makes you say that? I have a cold. Atchoo.'
***
Ooh, and here (click to make bigger) is the online version of our German newspaper article. Gotta love Hakuna Matata Night at Heidelberg's Horn of Africa bar. And I'm seemingly fluent in German. Who knew..!

previous | next