I WANT A DEEP FRIED MARS BAR!


2011-08-21 | 9:25 p.m.

I wrote the following gem (*cough*) on paper on Friday afternoon, when I was back at my mum's.

19/08/11, 4.45 pm.

Okay, so Tbay texted me today to say he's finally booked his round the world trip. I feel...some sadness although not too much. Over the past month or so the relationship has been naturally dying. In July it crescendoed with us staying round one another's houses up to three times a week and then one Sunday we had 'The Talk' whereby he said there was one thing he knew - he wanted to go away.

I pretty much shoved my feelings for him in a can and stamped on it. We're still friends and perhaps overly friendly, but the thought of not seeing him for a few days now doesn't particularly bother me one way or another, whereas before I was utterly transfixed.

Anyway, other than that, this week I have been so, so happy. I've been having some time off and last week (7 - 10 Aug) had Rachel come and stay for a few days and then last Friday went up to Edinburgh (on the Megabus - argh) for the festival and without question it was the best holiday I've had this year (sorry Glasto!).

So Tim and I got the pauper's mode of travel while Hutch, Jenn, her brother George and friend Iain swanned up in luxury on the train. The bus went quickly because I was SO EXCITED and it was nice to have Tim on his own for a bit and thus we completed all 15 puzzles in Take a Break magazine and caught up with each other.

Once in Edinburgh (9 and a half hours later) we got lost navigating to our hostel but then as soon as we were back on track bumped into FRANK SKINNER!...
...who - oh gosh - I know you're not meant to meet celebs you love in case they turn out to be extreme twats but he was the *nicest* celeb I've met, didn't mind chatting for a bit in the rain and was courteous and friendly.
That evening we had some food and beers, saw a bit of comedy and went back to our hostel for more beers and a fire alarm (yay!).
On Saturday we got up to go on the three hour walking tour around Edinburgh, which was bloody great. The most memorable moment was when our tour guide took us into the cemetery and was creating a fantastic eerie atmosphere by explaining how bodies were stolen and the various folk buried there and how Edinburgh is meant to be one of the most haunted cities the world over.
He finished his talk about a particular section and, as if on cue, a tramp popped out from behind a crypt and began ranting about his famous relatives who were buried there.
Hutch on the left and me on the right.
Two girls from our tour group ran off disturbed and I clasped Jenn's hand very hard indeed whilst the guide muttered about him 'not being part of the show' and quickly ushered us along.
We were alright after a bit. Here's my friends at the end of the tour. Hutch, George, Tim, Iain and Jenn, all looking lovely!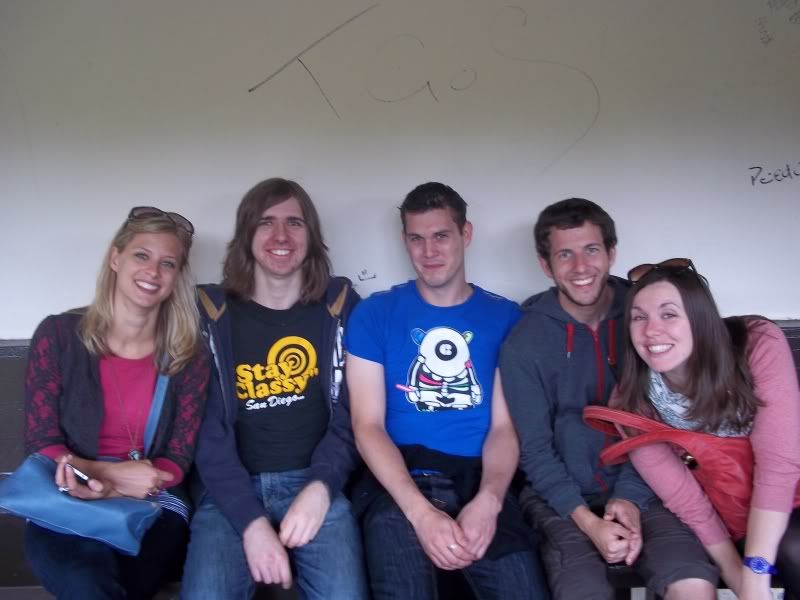 That evening we saw Dave Gorman (brill) and rocked out at silent disco. However I think Sunday was my favourite day overall as we saw Tim Vine's comedy then the improv musical, as recommended to me by a policeman I recently met (more on him later!) and then meeting Tim Vine, getting Tim Vine to write down a joke for Tbay ('You're a court clerk. I'll be the judge of that.'), meeting Issy Suttie and conducting 'David Mitchell Watch'.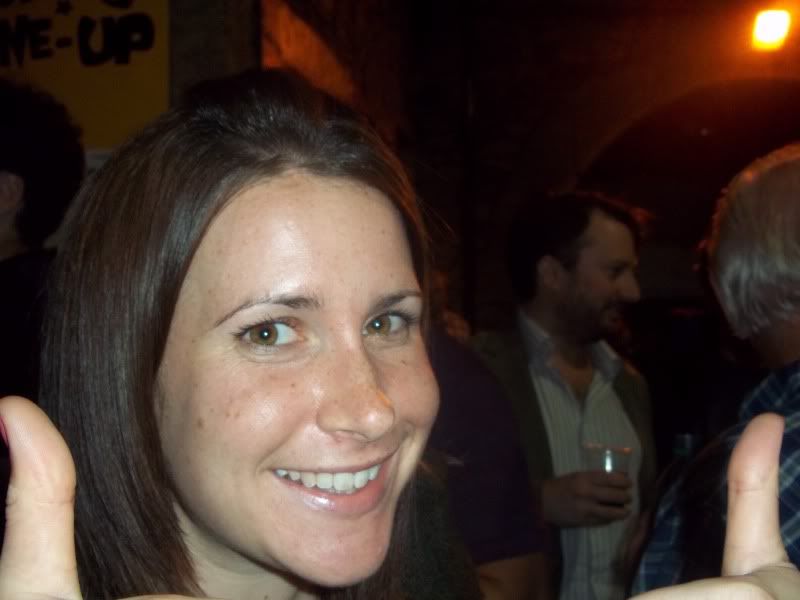 After that we saw a funny Welshman called Elis James and then scampered off to the World Famous Frankenstein bar for karaoke, where we met Tim Vine AGAIN and rocked out drinking rum and cokes and the odd Jagerbomb (which explains why I felt horrendous for the first two hours of the return Megabus journey).
Iain singing Monster Mash:
Tim Vine channelling Will Young:
Hutch and me:
Now for some miscellaneous! Me, very cross at the idea of kilts costing up to *£800*
Jenn in our hostel, doesn't like sunlight whilst sleeping, has handy hair blind.
Jenn in the Frankenstein bar doing her best Scottish accent, announcing, 'I want a deep fried Mars bar!' The response? 'You sound like Arnold Schwarzenegger.'
That trip did me a lot of good. My soul feels happier and I've been eating and sleeping well (much needed after the four hours a night I was getting in Scotland) and the reparation of my body after inflicting on it Irn Bru, haggis, deep fried Mars bar (well, two between six of us) and whisky.
On Thursday I have a date with a policeman I met at one of the press's leaving drinks (THE Journo, in fact, who's taking a six month sabbatical). He already thinks I am 'endearingly odd' after I sent him a message today saying I'd left work and 'found meerkats, tarantulas and a raccoon.' I really did though! For reasons I know not there was an animal display in the square near my work. And who wouldn't wish for a raccoon prancing around on a lead to make their already bright day even brighter? Not me, that's for certain.


previous | next