Karel Poborsky


2011-10-09 | 1:39 p.m.

So. This month I have mainly been falling over. You'd have thought I would learn after falling down the escalator, but no, gravity is insistent on being my worst enemy. In addition to tripping up a marble staircase at work, as well as falling over behind the witness box of Court 2 (at which a police officer began laughing and said 'It's like you did a magic trick!') on Tuesday I had yet another incident. I was going down the stairs at Cally Road Tube, was twizzling the wire to my MP3 player and trying not to drop my cardigan then all of a sudden took a tumble, landing on my ankle. Again I had to be picked up by a kind stranger, valiantly hobbled on with life and by the time I was at work it was evident that I had very definitely sprained my ankle.
It's on the mend but seriously, I need to be proactive about this and STOP FUCKING FALLING OVER.
Things are alright other than that. I'm ever so slightly stressed about the fact that in four weeks' time I will be moving out of this flat and as yet have no definite place to move into. I went to a BBQ at TBay's last Sunday (one of the hottest days of the year!) to get to know his housemates a bit better and see the room that will be free when he leaves next month. If they want me, I'll happily move in, but I think there is another housemate friend interested so I need to keep looking... The worst that could happen is that I move back to my mum's for a bit but at the age of 27 this is something that is not especially appealing, even more so as I no longer have a car.
It was funny actually, as when I was at Oktoberfest (pics to come in this very entry!) I met a nice boy, James, who was a friend of my brother's friend Andy and it turned out he had a spare room in his Canary Wharf flat, which I would be welcome to occupy. Marvellous! Only we ended up kissing on the last night and are in fact now dating. The offer still stood but I do have a sensible bit of brain somewhere in my head and I can't imagine a worse idea.
So yes, the Policeman is not out of the scene entirely and I am seeing him on Wednesday BUT just as friends. It's a shame really as on paper he is absolutely perfect and we get on great, but the *thing* just wasn't there, for either of us, but I'm happy enough with how things have turned out.
Anyway, after getting back from Munich I went out with James in Canary Wharf and have been seeing him fairly regularly since. He came round yesterday evening for wine and pizza and I have yet another anecdote to add to the 214 thousand stupid things I have said on dates and the following conversation ensued:
James: 'Ooh, this wine's nice. Where's it from?'
Me: 'Morrisons!...Oh, I mean South Africa.'
FACE PALM.
Oktoberfest was a brilliant four days. My brother, a selection of his friends I've been hanging out with since I was 17 (including Paul R-P with whom I gatecrashed midnight mass on Christmas Eve three years ago!), Fraser, Jenn, Hutch and Reeta make a very good group. Oktoberfest can be summarised as being like a drunk Disneyland.
Andy et al had taken an earlier flight than us on the Tuesday so by the time we arrived at our hostel to drop our stuff and meet Fraser it was about 7 pm and they had all been drinking for several hours and I was struggling to get any sense out of them. On the phone Andy announced 'Only one person knows the name of the place where we are and he's gone off.' Useful! Turns out it wasn't hard to find so we decided to join in straight away.
Someone enjoying a little bar nap, with Hutch, Reeta and Jenn in the foreground: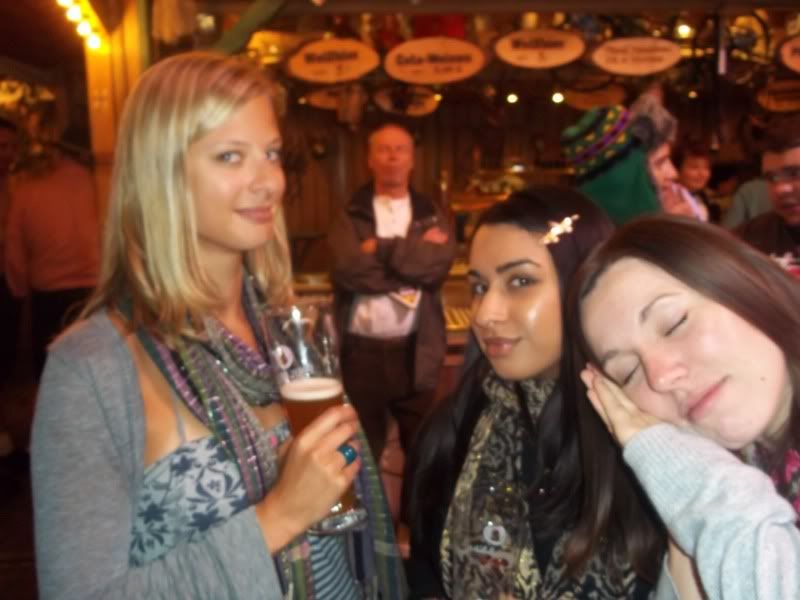 Jenn about to sample bratwurst: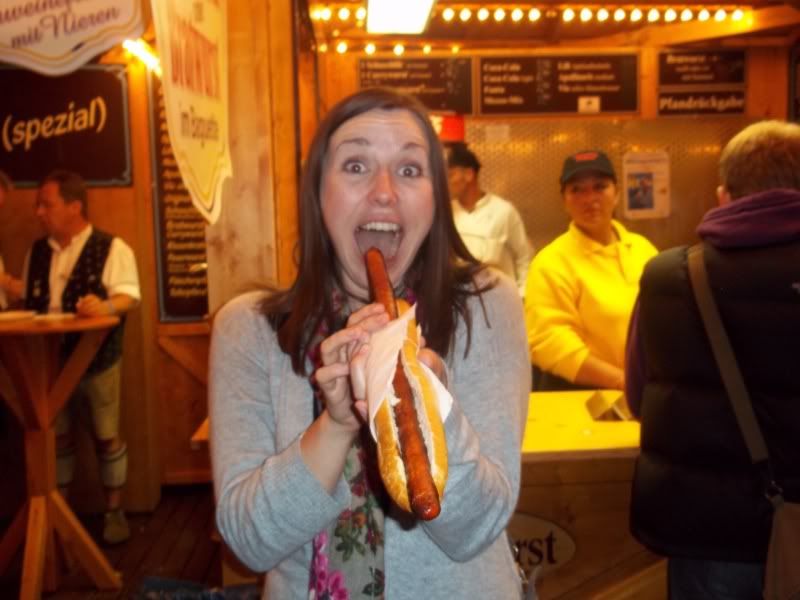 Andy, Jenn, my brother Adam, man with A VERY DUBIOUS TROUSER STAIN who took a liking to Hutch, and Hutch: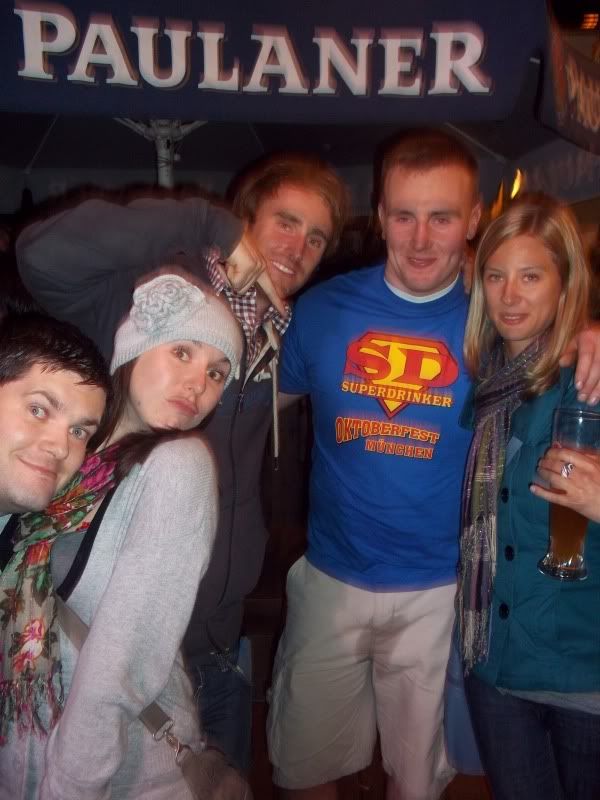 He then gave Jenn a full body hug. Yak!
Clearly didn't know how to deal with all the lovely attention: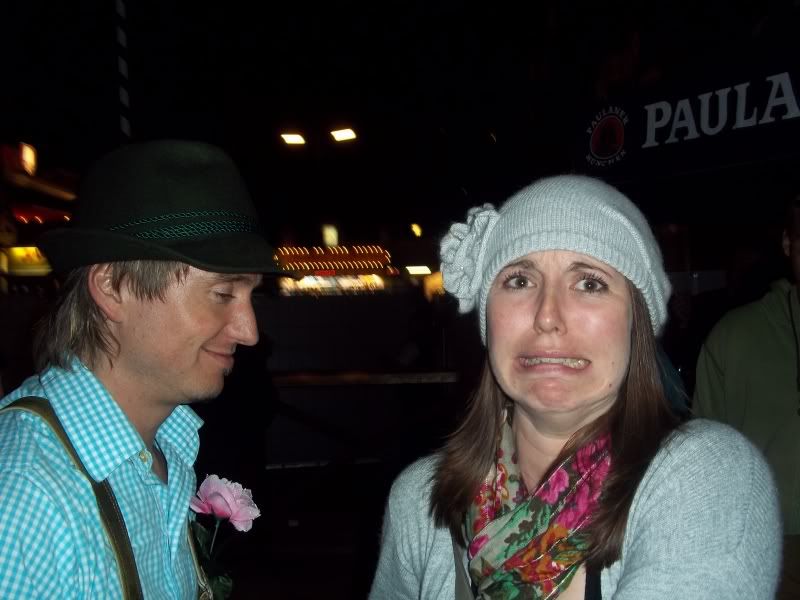 On the Wednesday our group split for the day, with Adam, Fraser, Pricey, Jenn, Hutch, Reeta and myself opting to explore Munich, whilst the others went straight back to Oktoberfest for more.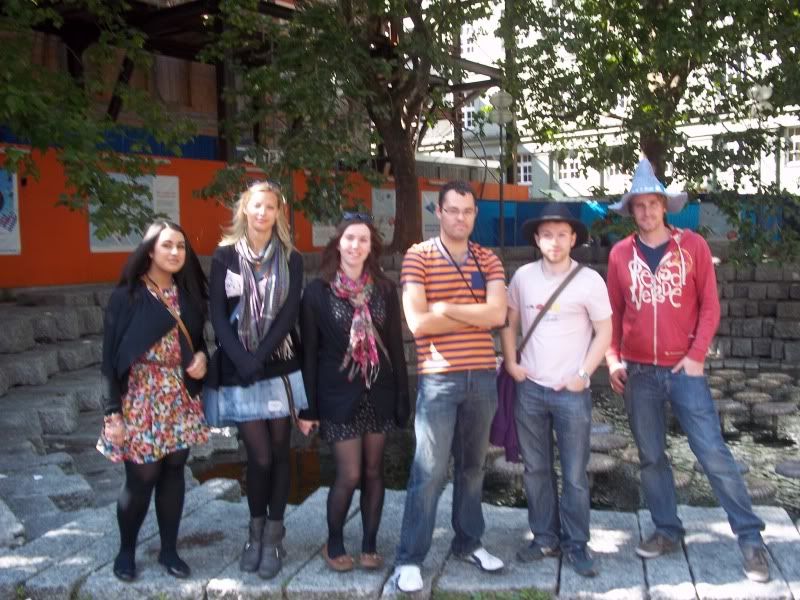 Great views from the top of the cathedral: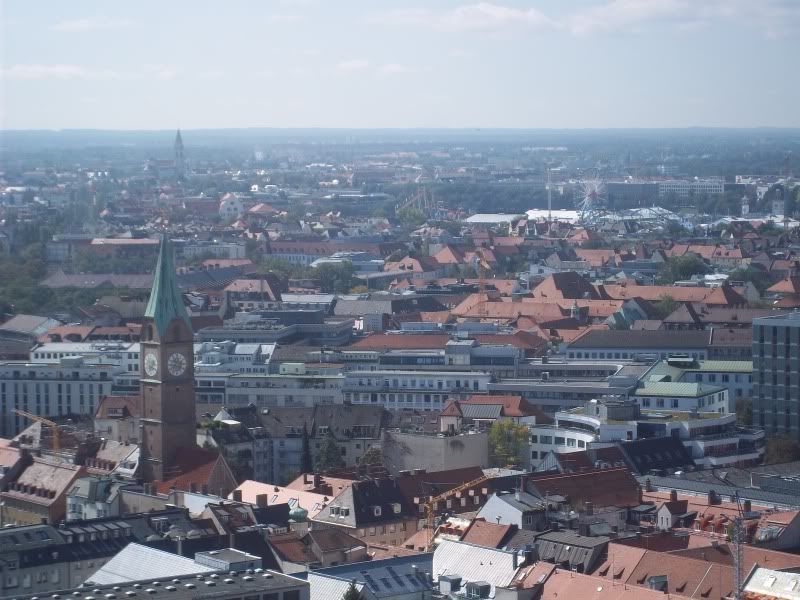 Lunch outdoors. Jenn still hadn't got the hang of lifting a litre of beer. The man behind is clearly disappointed!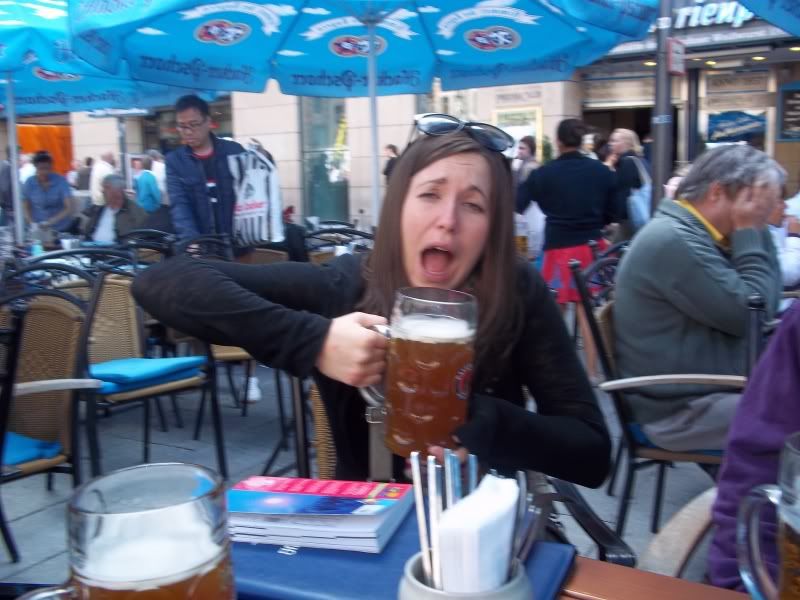 After crossing a river and wandering through park land...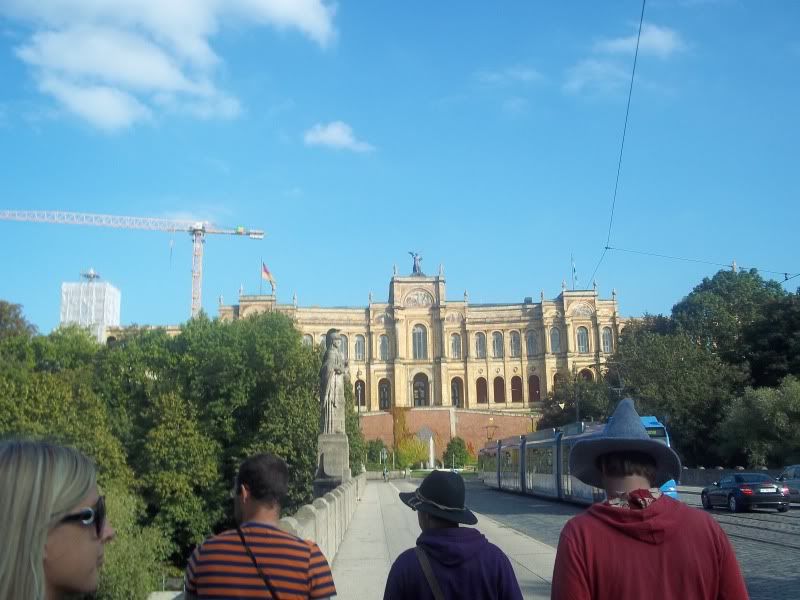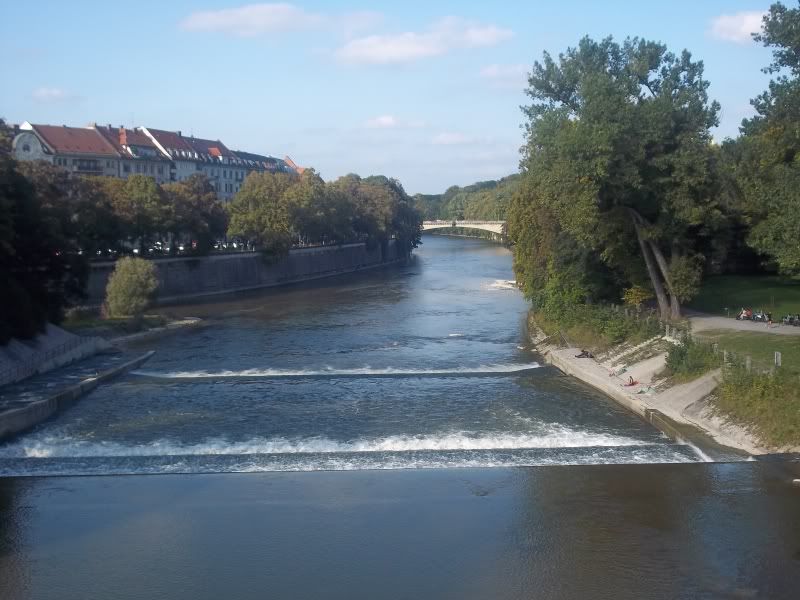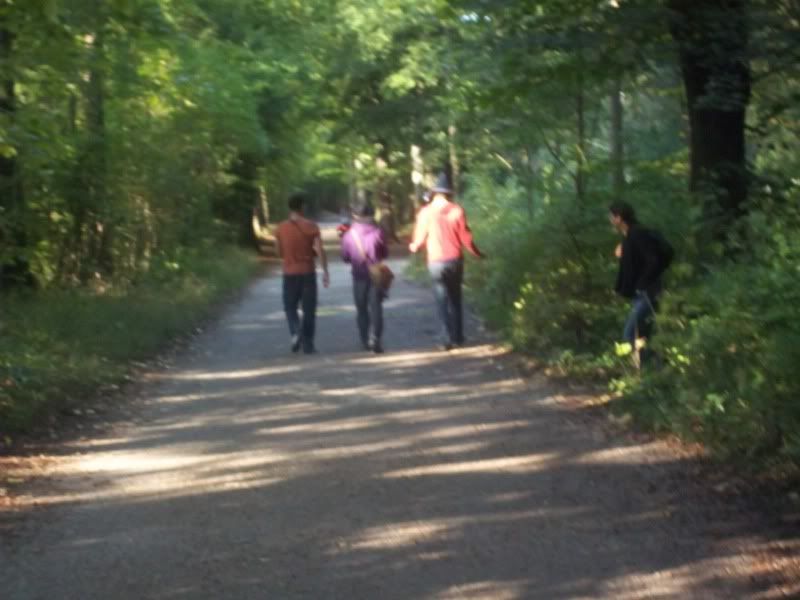 ...we found a cool Chinese garden to enjoy a beer: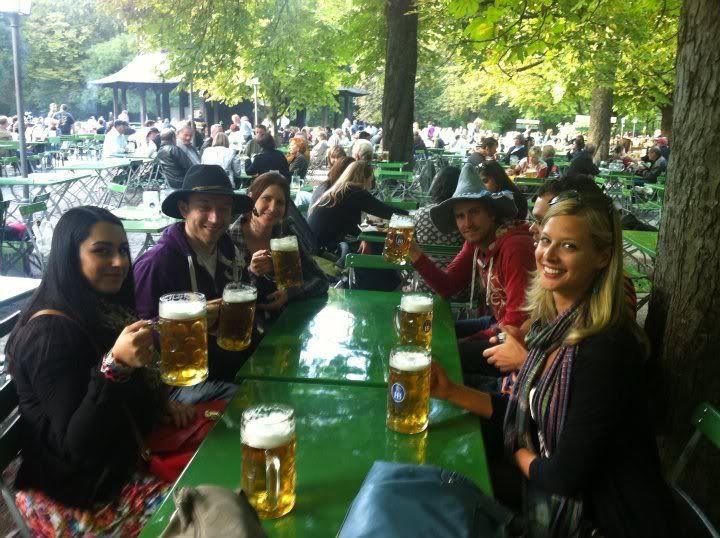 A bird decided to shit about two inches away from my drink. If it had gone in my beer or landed on my hEad that would have ruined my day.
When we got back to the Oktoberfest site we had a spin on the revolving bar (my head poking out behind Adam):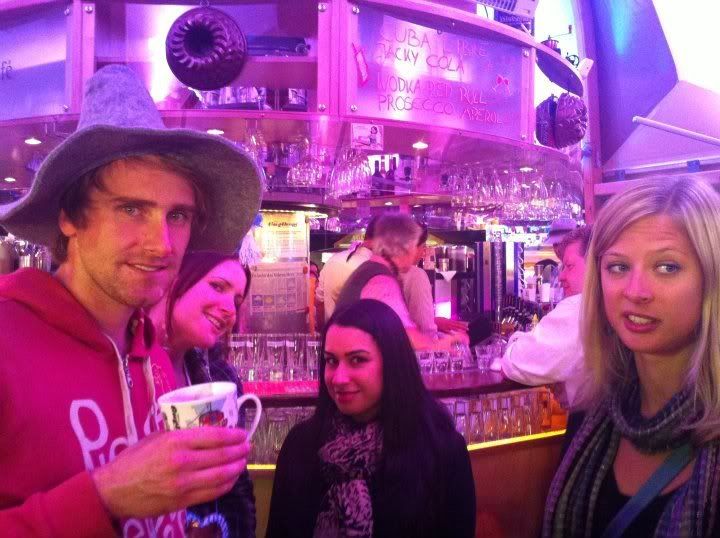 When we got back to the hostel we ended up having a garden party since our hostel's basement disco was shambolic, consisted of only one punter who'd fallen asleep on a chair and it shut at midnight anyway, so we had a garden party outside: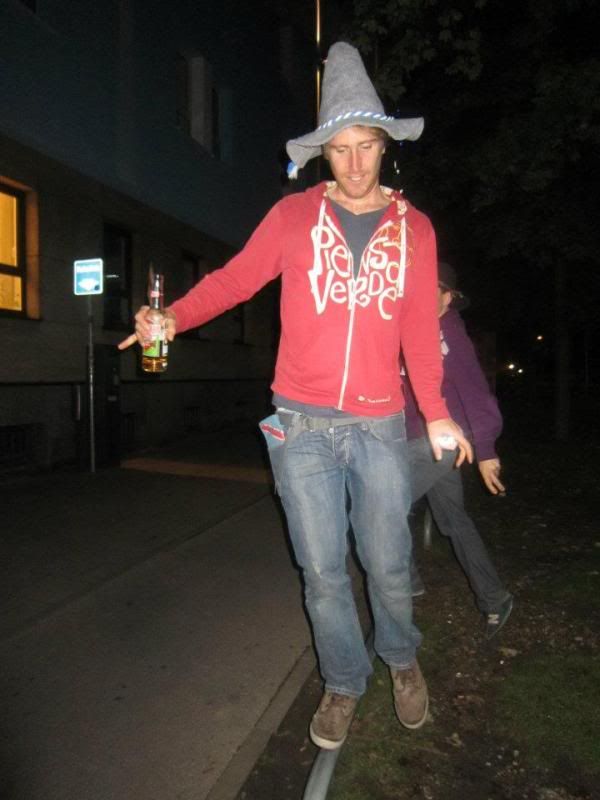 .
The next day we convened outside after breakfast, ready for a full day of Oktoberfest...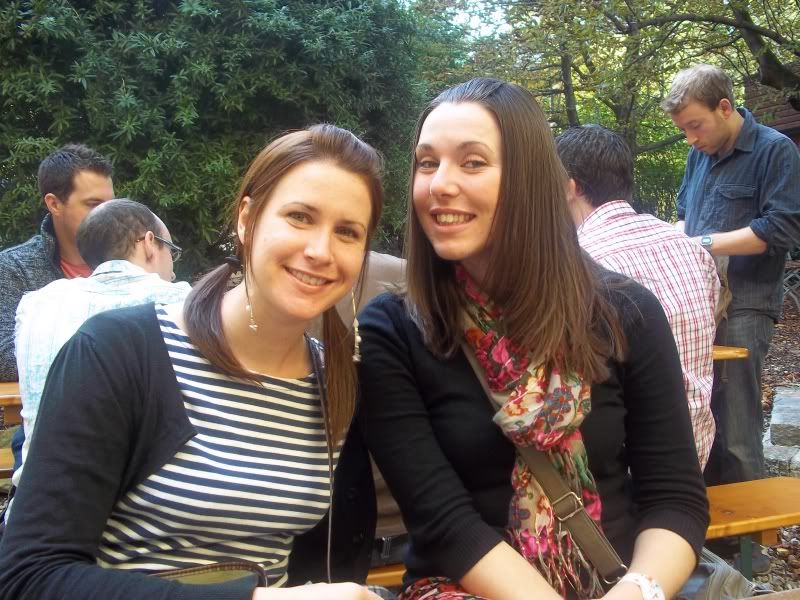 ...after appreciating the adverts at the metro station: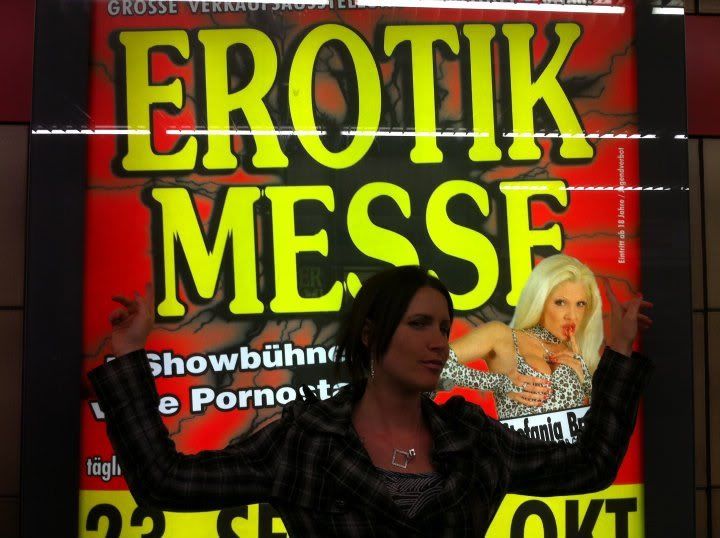 Our chosen beer hall outside...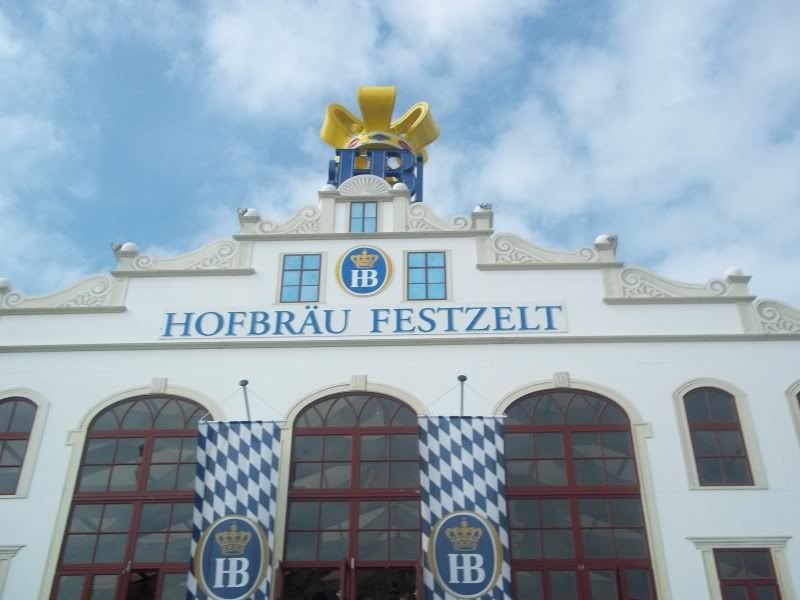 ...and in: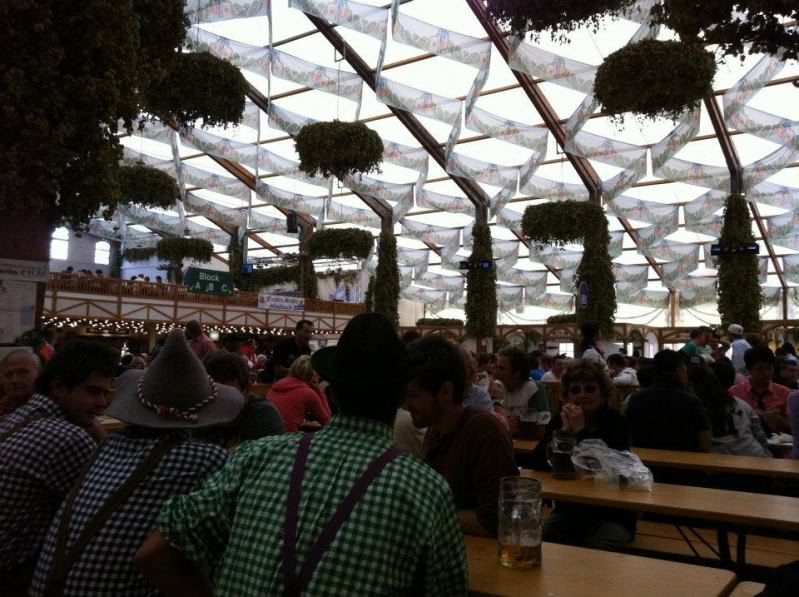 A few beers and many games of Shithead later and it was 4 o'clock and we were being booted off the table as it'd been reserved. A few of us decided we wanted to on this baby (didn't manage to get a proper daytime shot):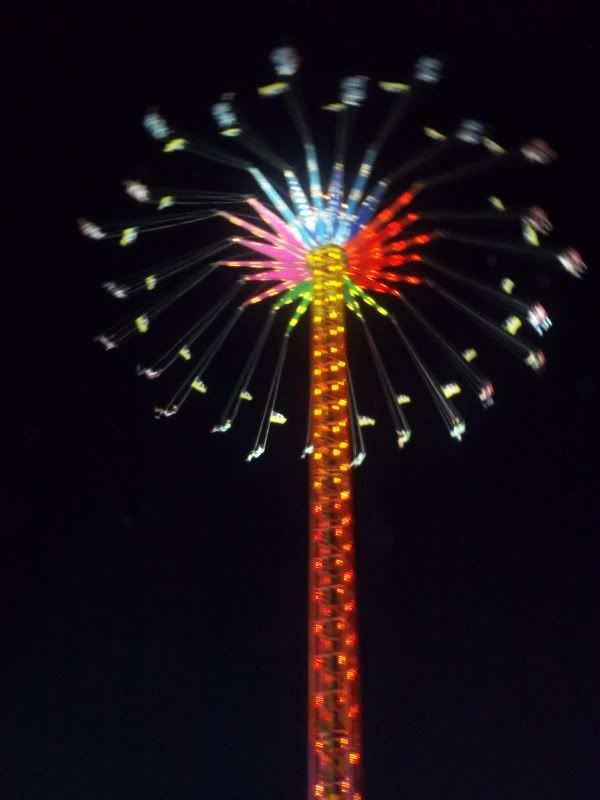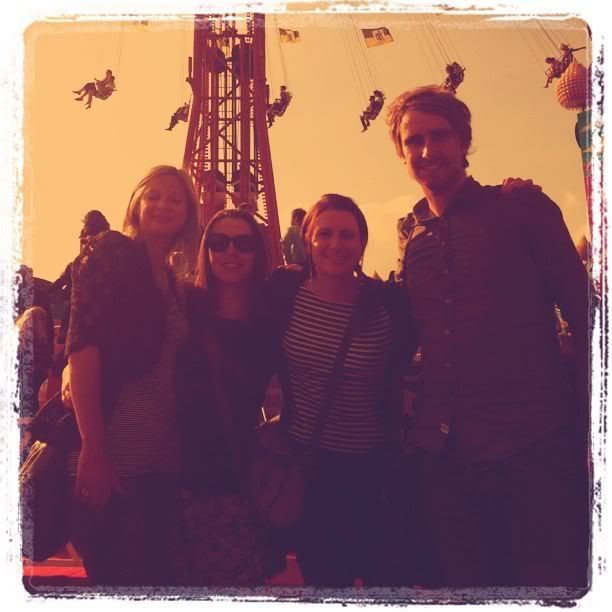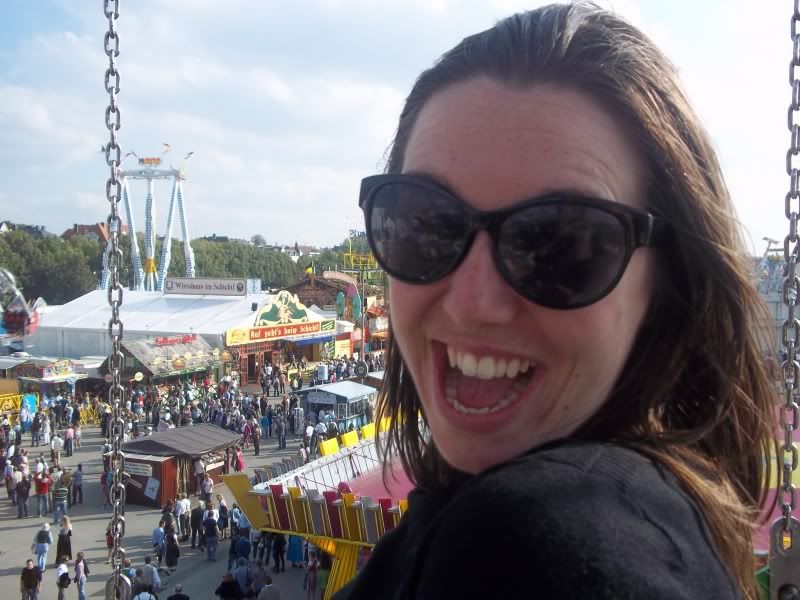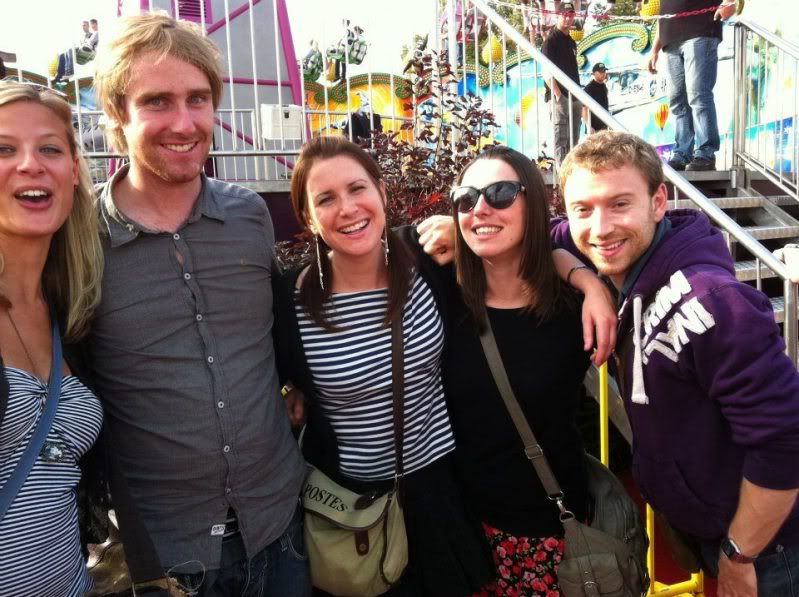 And rejoined the others in an outdoor beer garden to find them playing cards for money, so joined in. This was very fun and after a few more beers things started to get a bit hazy. A selection of pictures I do not remember participating in: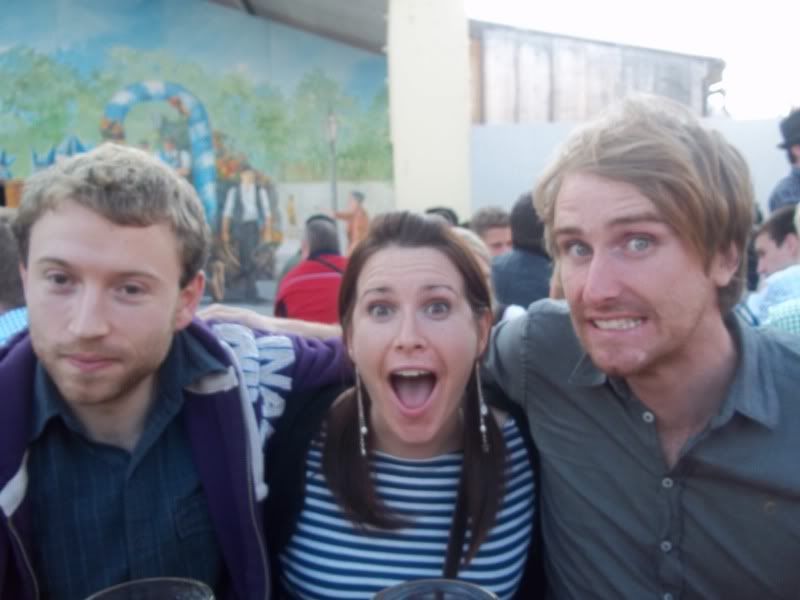 Me strangling Paul R-P: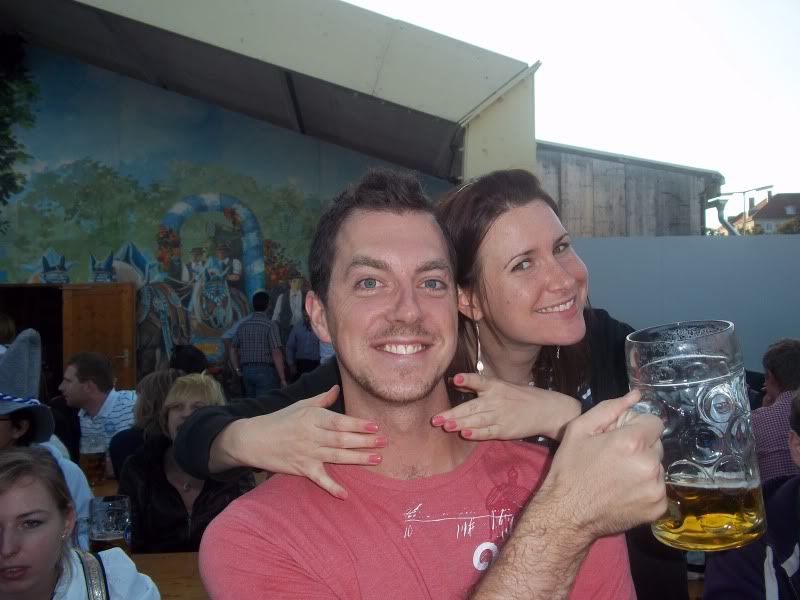 No idea what Fraser's doing to me: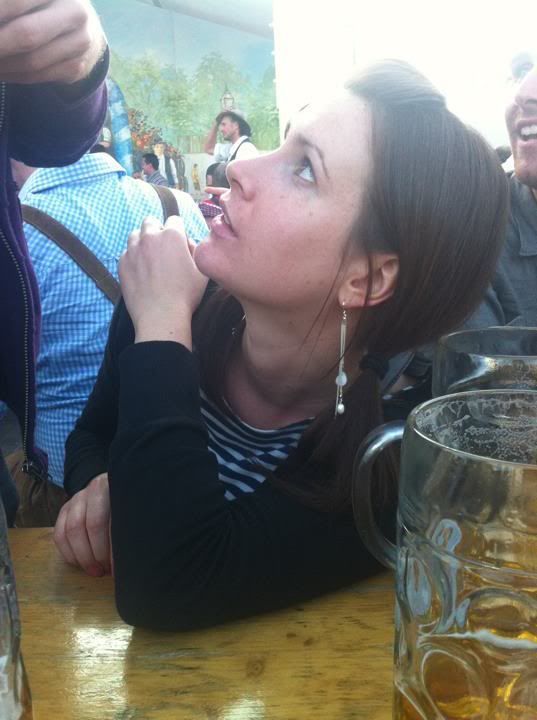 That night I'm not entirely sure what happened, except our group got separated on the way back and I ended up eating pretzels and chatting to James in the hostel's foyer. The others showed up and went to bed not long after, except for Fraser, who went clubbing with some strangers and rocked up at 7 am the next day, still drunk. Hardcore. The others had a morning flight so were long gone by the time we got up, but Hutch, Jenn, Reeta and I weren't flying til the evening so went back for a bit more Oktoberfest, making the error of buying a pack of cards that only began at the number 6, going on the haunted house and then visiting the wine and cake tent.
If you've made it this far...bravo. I've run out of steam and REALLY should try doing something with my Sunday, even if it's only to get out of my nightwear, which earlier resulted in me having to tell a councillor who knocked at the door that I couldn't open it because I was dressed in a tiger print onesie.

previous | next