Moving in, seven weeks on


2014-04-11 | 9:22 a.m.

Since Rachel asked me yesterday, I feel compelled to say no, I have not abandoned Diaryland! I'm just an appalling diarist and my laptop's been broken. I've been using Ollie's computer but I don't exactly want this place lingering anywhere on there, and he has a horrendous Windows 8 touchscreen thing which nearly made me start wailing in frustration. I actually had to Google on my phone how to open Internet Explorer from the desktop (Windows button + R then type in "Iexplore" in case you didn't know. WHY HAS SOME SADISTIC BASTARD OVERCOMPLICATED THE FUCKING THING?).



Anyway, we've been in our flat now for...it must be seven weeks I think. And I love living with Ollie. Unfortunately our flat had a whole mouthful of teething problems when we moved in, which one can only assume the idiotic previous tenants simply put up with. Seriously, when boiler fixing men come round your flat five days on the trot as your boiler keeps flashing some red "alarm" button and stops working til it's reset, who cannot fix it then send out an expert who announces the wrong electrical component was fitted when the boiler was installed 18 months ago, it does make you wonder why no one mentioned the problem a tiny bit earlier. Despite that, I still think the leaking toilet was my least favourite of all the issues. I ended up with nightmares about catching cholera.



Bloody hell, how moany am I? I honestly do really adore the place. Here's a piccy of the living room I took a few moments ago: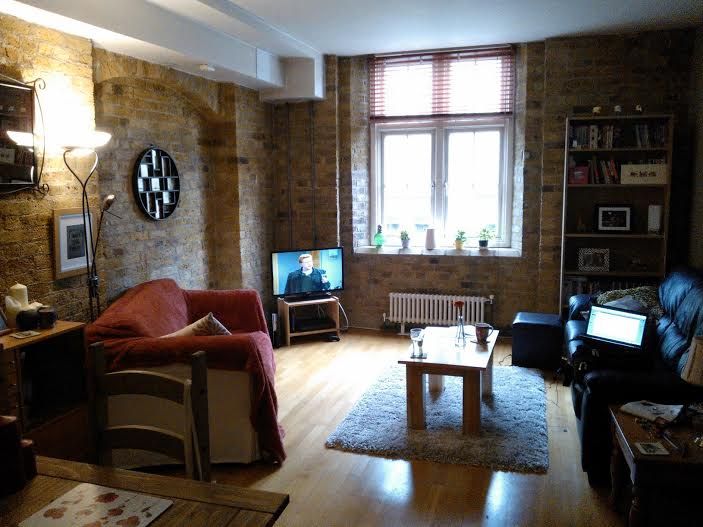 And I love that all the furniture is ours, even though that is the biggest sum of money I have ever spent in one go and that I hated the sofabed (left) when it first arrived from Ikea and wanted to stick it on eBay immediately. It felt like it was nearly twice as tall as the other sofa! But we took one of the cushions out of the seat and I don't mind it now and oh my God I'm waffling on about furniture. Maybe this is the real reason I haven't written in an age.

I also spent February feeling very, very worried about work when my working levels dropped from 3-4 days of private work per week in January to ONE day a week for all of February. I supplemented this by going into the office to do any transcripts I could get my hands on, as well as being given 1-2 days a week in court in the Royal Courts of Justice (which is contracted work rather than privately paid, but at this point I wasn't fussy) but I began thinking it was time for a career change which is not a change I would relish as being a stenographer is not a transferable skill. I can steno and that's it.

Luckily it has become much much busier over the past month or so thus the career change is on the back burner for the time being. I spend some of my days working with hearing impaired people and some I work in court and I sometimes do jobs for Transport for London and I don't want to do anything else! Except working with Boris Johnson again. I got roped into doing People's Question Time for a second year running a couple of weeks ago and nearly began weeping into my fingers once he started talking about Ethelred and, later, pluvian flooding. My transcript can actually be found in the below link in case you happen to be very bored indeed:

"My name's Boris and I'm a rich prat."

Anyway, I best be off dear DLand chums, I've just had a text from Ollie asking if I can call the engineer about our broken cooker hood. Domestic bliss at its highest! Hope you have a brilliant, sunshine-filled weekend one and all.

previous | next